BUDDY PROGRAM GIVEAWAY – SPECIAL EDITION COMMODORE RIG
With FanFest only two weeks away and Quantum Rise bringing technology and content to new levels, now is a great time to be a part of the EVE community. We're going that extra mile on all fronts, and the Buddy program is no exception. From today until the start of FanFest, CCP will be tracking all Buddy invites to see who locks down the highest number of Buddy conversions from invites sent during that time. The subscriber with the most conversions will become the proud owner of a massive Special Edition Commodore EVE Rig!
If you haven´t used the Buddy invite system before then now is a perfect time to check it out. Click a link and enter an email address – it's that easy! Link, rules and specs of the machine are outlined below. Introduce friends to the most immersive MMO on the market and increase your chances to win an incredible gaming rig in the process!
RULES:
Buddies invites that are converted to a subscriber from today (Oct 24th) until November 6th will be counted. Since trials are 14 days we will make the cutoff for conversions on Nov 20th to give your Buddies enough time to decide and enjoy their full trial time.
Participant must be a current subscriber.
Buddy invites must be sent out from the Buddy Invite Page so they can be tracked
Only conversions from invites sent during this promotion will be counted, conversions from invites sent before Oct 24nd will not count.
In the case that two or more Buddies are even as winners, then a drawing will determine the final winner.
PRIZE: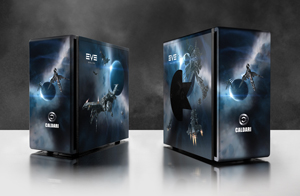 Special Edition Commodore EVE Rig. The EVE DEV team will sign the rig, so this is a real collector's item. Below are the specs:
3.3ghz Core Duo processor
750W power supply
Sound-deadening components
ASUS P5N-D (NVIDIA nForce 750i) motherboard
4GB of Commodore Corsair RAM
GeForce 280 1GB video card
2-year warranty
ABOUT THE BUDDY PROGRAM:
The Buddy Program is for current EVE Online subscribers that want to enable their friends to try out EVE Online without any obligations. By clicking on the link below you can send your buddies a free 14-Day Access Pass and have them join you online.