EVE Vegas Alliance Prize Draw!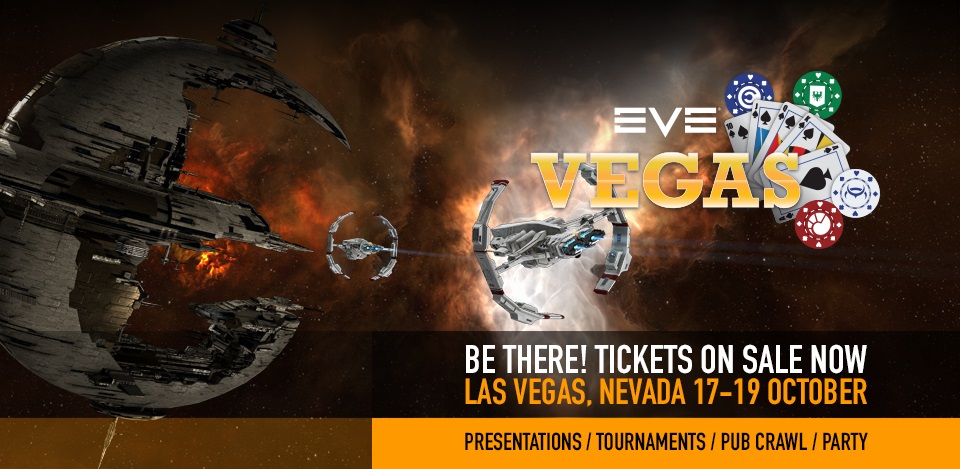 We are happy to announce that as part of the run up to EVE Vegas 2014, we will be entering every alliance that has more than 10 registered attendees into a raffle for an awesome evening in Vegas!
The winning alliance will receive exclusive access to the CCP Games EVE Vegas 2014 Panorama Suite at Planet Hollywood, for the afternoon and night of Saturday, October 18 (valid from Saturday, October 18 from 17:00 to Sunday, October 19 at 03:00) stocked with "adult beverages" complimentary of CCP Games.
To be eligible, alliances must have more than 10 registered attendees who have stated their alliance affiliation at the time of booking a full conference ticket through the EVE Vegas Secure Website. Please be aware that your alliance affiliation will be registered from the account you purchase a ticket with, and you cannot edit your alliance affiliation once a ticket has been purchased. Tickets are also not transferrable.
There are a few rules for the competition:
All tickets bought before 12:00 UTC, Friday October 10, 2014 will be counted as part of the competition.
Reception only tickets are not part of the competition and won't be counted.
We will notify the winners via the email address they registered when purchasing a ticket through the EVE Vegas Secure Website on Monday October 13, 2014.
CCP does of course reserve the right to use the names of winners for promotional purposes.
CCP also maintain final discretion on making the awards.
The prize will be claimed at Planet Hollywood reception, 3667 Las Vegas Boulevard South, Las Vegas, NV 89109 – Saturday, October 18.
Winners must be 21 years of age and be able to provide valid ID to claim their prize.
At this point in time, the alliances currently eligible to be part of this draw are as follows:
Goonswarm Federation (45 attendees)
Pandemic Legion (27 attendees)
The Bastion (16 attendees)
Overload Everything (12 attendees)
Get Off My Lawn (13 attendees) 
Close to being added to the draw are:
Black Legion (8 attendees)
Brave Collective (9 attendees)
Brothers of Tangra (6 attendees)
RAZOR Alliance ( 8 attendees)
Shadow Cartel (9 attendees)
Tactical Narcotics Team (8 attendees)
So, sign up today to come along to EVE Vegas, and encourage your wingmen to do so too, for the chance to win an awesome evening at EVE Vegas 2014!