This weekend: The Alliance Tournament Finals
Hello ESports fans it's CCP StevieSG!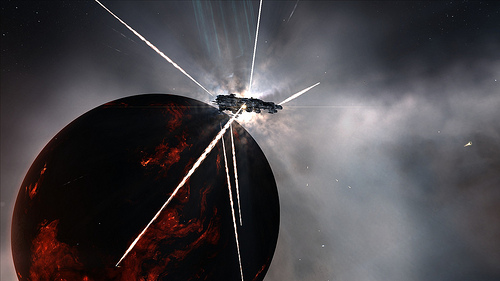 It's finally here, 64 of EVE Online's best Alliance teams have spent endless amounts of time practicing, tons of ISK and two whole weekends battling it out to make it to this weekend's Universe Cup: The EVE Alliance Tournament. The qualifiers kicked off to an incredible start; not only did we witness comedy setups, metagaming and some seriously talented FC's we also reached a new milestone in EVE Online when 60,453 pilots logged in during the second day of matches shattering EVE's PCU.
The finale will be broadcast LIVE via EVE TV on June 19 and 20 from 14:50 UTC. Throughout the weekend, you can join CCP Soundwave, special developer guests and a host of PvP experts in the studio, and watch the matches each day in glorious High Definition. You can Tune In Here to catch all the action!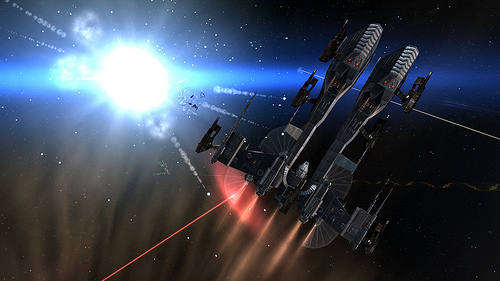 Must view matches for Saturday include the #1 ranked Alliance Rote Kapelle fighting at 15:00 GMT, a rematch of last weekend's slugfest between Circle of Two and Red Overlord at 16:20 and defending champions Pandemic Legion at 20:00. The elimination schedule is available here. Will they take it again this year?  Tune in to find out...
The Studio Show
Not only will we be showing every match complete with commentary, post-match analysis and up-to-the-minute statistics provided by ISD, alongside our studio show we have flown five EVE Players to our studio in Reykjavik, Iceland, to commentate on the event. We will also have several of CCP's key developers in studio to talk about their projects, including Lead Game Designer CCP Hammer and the Creative Director of EVE Online, CCP t0rfifrans. We will also be showing some exclusive featurettes including a sneak peak at CCP's incredibly talented Video Production team.
But wait, there's more!
For the participants, a lot is at stake, with CCP giving away 50 unique ships to the first and second place teams, as well as 50 Billion ISK for the winners. Check out this dev blog for more information!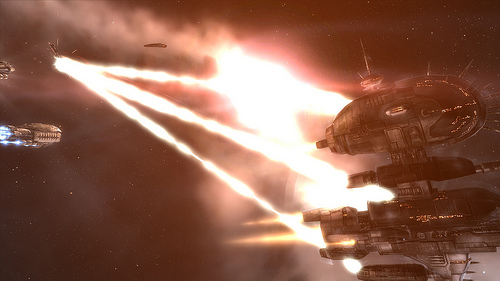 To celebrate the Alliance Tournament and for a limited time only CCP is also waiving the $5/5 Euro activation on new Buy EVE Now accounts (this does not apply to current trial accounts). You can get all the benefits of having a full EVE online account, such as all skills being available for training, whilst saving money to spend on snacks to eat during the finals broadcast.  We will also be giving away two beautiful NVIDIA GTX 280 graphics cards to two lucky viewers who tune into the stream and a full set of EONS issues 1-20.
For those of you who can't tune in...
The match replays will be available on CCP's YouTube Channel within a couple of days of broadcast and you can see some of Winterblink's incredible pictures of the events here.
For those who want to discuss the upcoming matches, head on over to our Alliance Tournament Discussion channel. You can also join us on Tournament Twitter and keep an eye on the Official EVE Online Facebook page. You can also join us in the #eve-online IRC channel on irc.coldfront.net. Check the Coldfront website for information on using IRC and how to use their built in chat interface.
Who will fight for the glory and honor of their Alliance, and take home the Golden Adrestias?
Find out, this weekend.
Images courtesy of Winterblink. For more amazing images, check out Winterblink's Alliance Tournament 8 Flickr set!