Singularity, Duality ... Buckingham?
With the open beta of DUST 514 comes an interesting question.  How do we publically test the latest additions to EVE, while making sure we don't impact DUST and vice versa?  As some of you will be aware, the current state of affairs is that EVE's Singularity test server ("Sisi") is hosting the DUST closed beta, and for reasons you may not be aware of, it is running a version of EVE that is actually older than that on Tranquility, the live EVE Universe server.  This may seem backward but in actual fact the reasoning is very simple – first and foremost we needed a version of EVE that would allow us to test DUST in a compatible environment.  We have been running tests internally to ensure that DUST and EVE remain compatible with each other regardless of versioning, but cannot update the public DUST client with the same regularity as we update EVE. 
DUST was opened to those in the closed Beta on Singularity on the 17th of August following what our Virtual Worlds Manager described as "a monster effort", and a lot of late nights from our operations and cluster teams.  On the 27th of August we then added EVE players to the mix on Singularity – a huge milestone for us.  It involved a colossal amount of planning and technical execution and went relatively hitch-free, which was great news.

For the first time EVE and DUST players were able to chat together from different clients.  It may not sound like a lot to the casual observer, but believe me – this is a big deal!  Our diligent players started reporting issues and we have been addressing them in our latest code. This has now been running in a stable manner for over a week and we are confident in moving on to the next step in the plan – testing our latest EVE code publically.  This brings us to Buckingham.
Buckingham is a server that was formerly used for testing DUST internally.  It became the logical choice for succeeding Singularity as the EVE public test server whilst we are in this transition period where Singularity is being used for the DUST closed beta. This is because Buckingham has hardware capable of running mass tests – something that our other public test server, Duality, is not able to do.  Shortly before this blog was published we started Buckingham running with the latest EVE code, mainly comprising back end changes to Factional Warfare and planetary graphics updates as well as some chat refactoring and the preliminary stages of Orbital Strikes.

We urge you to log on and play around, making sure to report any issues via our bug reporting tool in game (contained in the Help Menu – F12) or via the bug reporting website (//bugs.eveonline.com/newbugreport.asp).  The DUST component of Buckingham will remain locked to internal testing only.
To access Buckingham, you can simply download the full build from //community.eveonline.com/download/?s=buckingham or you can copy your Tranquility (TQ) install to a different folder.  In the latter case, create a shortcut to that folder's launcher.  Right click on that shortcut on the desktop, go into "Properties" and in the "Target" field put a space after the last entry in the field and type /server:87.237.38.69 to force the launcher to point towards Buckingham.  It should look something like this: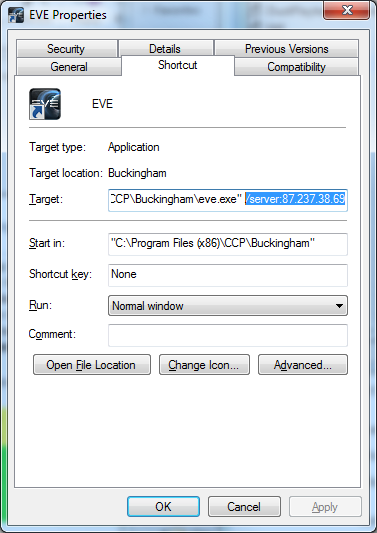 Unfortunately, due to Launcher complications, Mac users will be unable to join us on Buckingham for the time being - a post will be made in the Test Server Feedback forum explaining how to connect to Buckingham within the next week.
We will be holding a mass test next week on Buckingham to check out the performance of our new changes.  I'm making no promises at this stage, but it is very likely that this mass test will contain the first live Orbital Strike (even if its on a test server) – that's right, you might get to rain fire down on a field of unsuspecting CCP developers waging war on a DUST battlefield!  This mass test will be limited in numbers to around 200 players, so make sure you're keeping an eye on the Test Server Feedback forum (//forums.eveonline.com/default.aspx?g=topics&f=271) for info about date and time!  It is however likely that this will take place on Tuesday 11th September.
One final note in the public testing chapter – some news on Duality.  Duality will be open again for select periods of time starting from the 18th September so that players can check out the early work our teams are doing for our winter release.  Team Game of Drones will be debuting their latest wave of ship balancing, Team Five 0 will be showing the changes they have made to NPC AI and Team Superfriends will be looking for your feedback on tweaks they are making to the powerful but controversial Ancillary Shield Booster.  Again, more news on this will be broadcast in the Test Server Feedback forum nearer the time.

If you have any questions, comments or concerns, I and others look forward to addressing them in the comments thread.  Hope to see you on a test server soon!
Fly safe!
Goliath