The CCP Mystery Code: Demystified
Putting together the EVE: The Second Decade Collector's Edition has been an absolute joy.  We've worked hard to make a Collector's Edition we hope you'll find worthy of the legacy of the EVE Universe you've helped to create, and we're very proud of the results.
Since announcing the product at Fanfest, we've enjoyed sharing the crunchy details with you about the unique in game items for EVE Online and DUST 514, the Rifter USB hub and Into the Second Decade hardcover, and most recently, the first ever English translation of the classic Hættuspil board game, also known as the "Danger Game."
And now, with about two weeks to our ship date, it's time to shed light on one last, very special component of the box: the CCP Mystery Code.
The theme of the Second Decade is not only to celebrate the rich history of the first ten years of EVE Online, but also to provide our loyal fans with special access CCP's future products and offerings.  To that end, the CCP Mystery Code is your ticket to VIP benefits both now and for years to come.
So, without further ado, what can a CCP Mystery Code holder look forward to?
First off, I'm pleased to announce that as soon as you have opened your box and redeemed your Mystery Code, you will receive one bright and shiny PLEX which you can use to convert into game time, to trade in the market for ISK and much much more.  PLEX stands as one of the earliest virtual currency innovations in video games, and will continue to be a versatile method for enjoying all the EVE Universe has to offer in the future.  It just wouldn't be a proper Second Decade celebration without PLEX!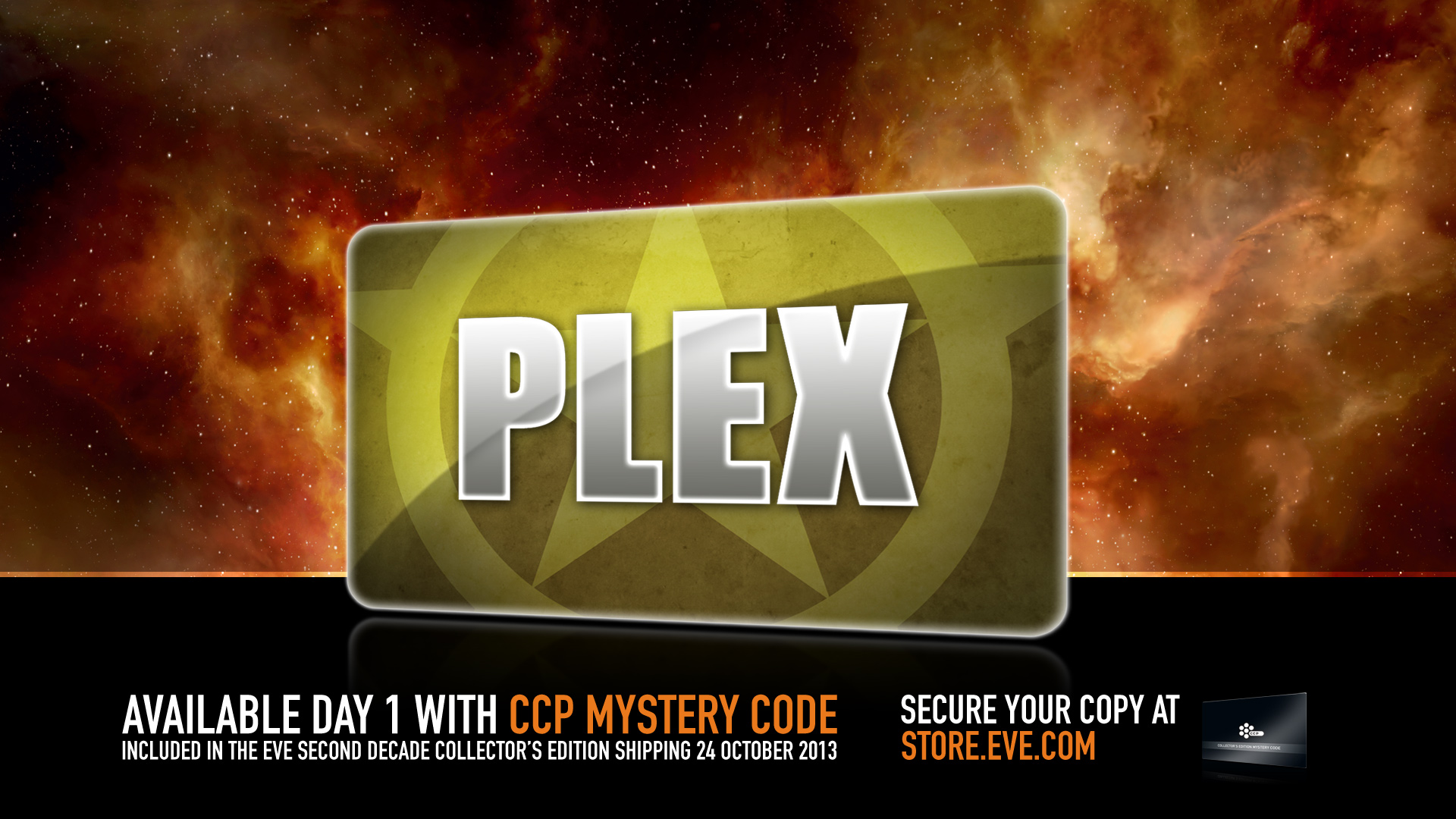 Next, you'll receive a tie in to the upcoming expansion for EVE Online.  As announced during our Twitch channel live stream, EVE Online: Rubicon will launch on November 19.  As part of the Rubicon release, we'll be unveiling a new body modification option for Capsuleers:  Cybernetic arms.
Mystery Code holders will be receiving the exclusive 'Phanca' Cybernetic Arm to sport on their characters.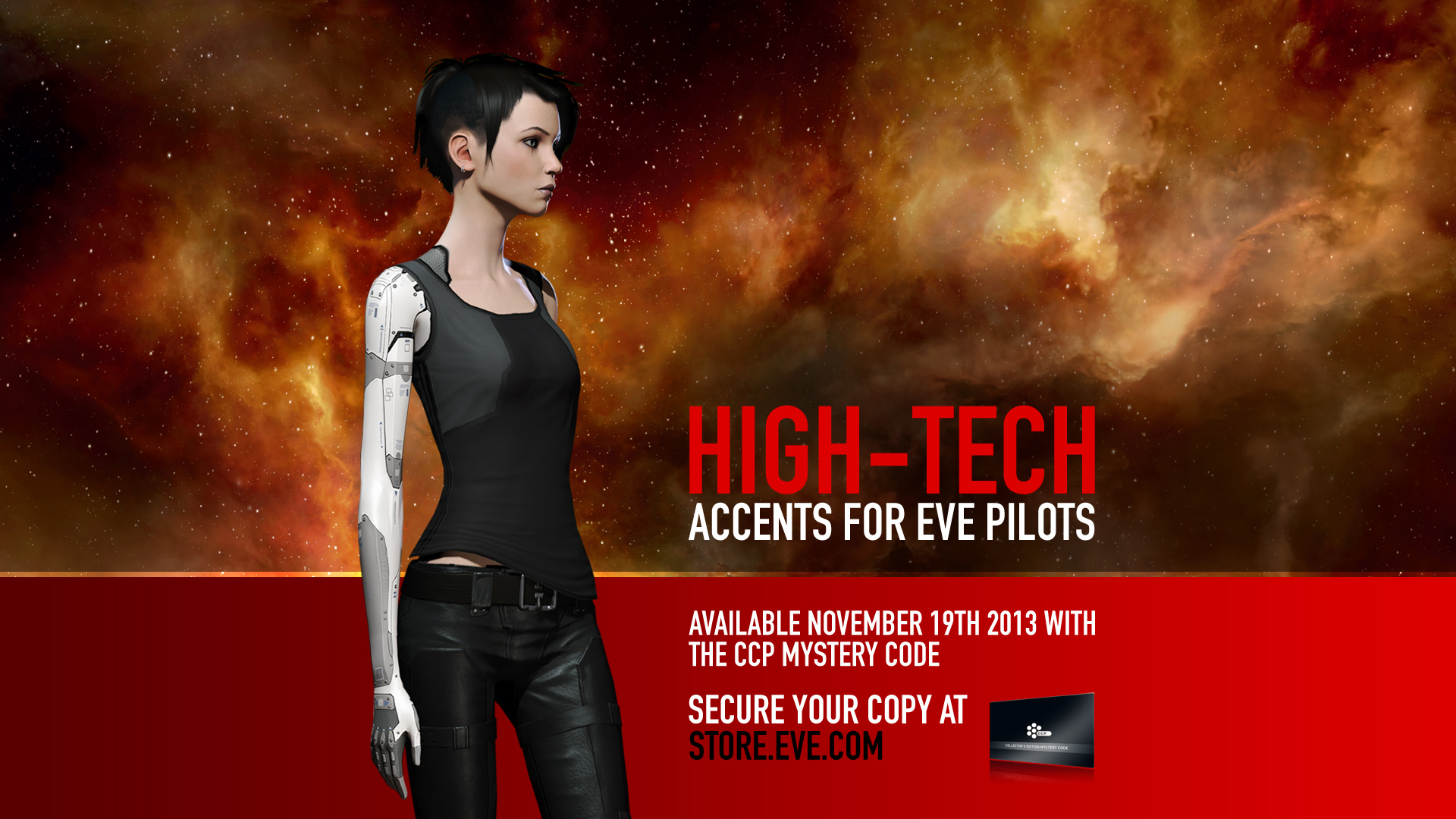 Note that alternative cybernetic arm models will be available to all players at a later date.
And third, in August at Gamescom, we announced the 2014 launch of our next title, EVE: Valkyrie, to usher in a new era of adrenaline-fuelled dogfighting to the EVE Universe.  I'm delighted to announce Mystery Code holders will receive an exclusive fighter in EVE: Valkyrie, the Templar Mark II Prototype.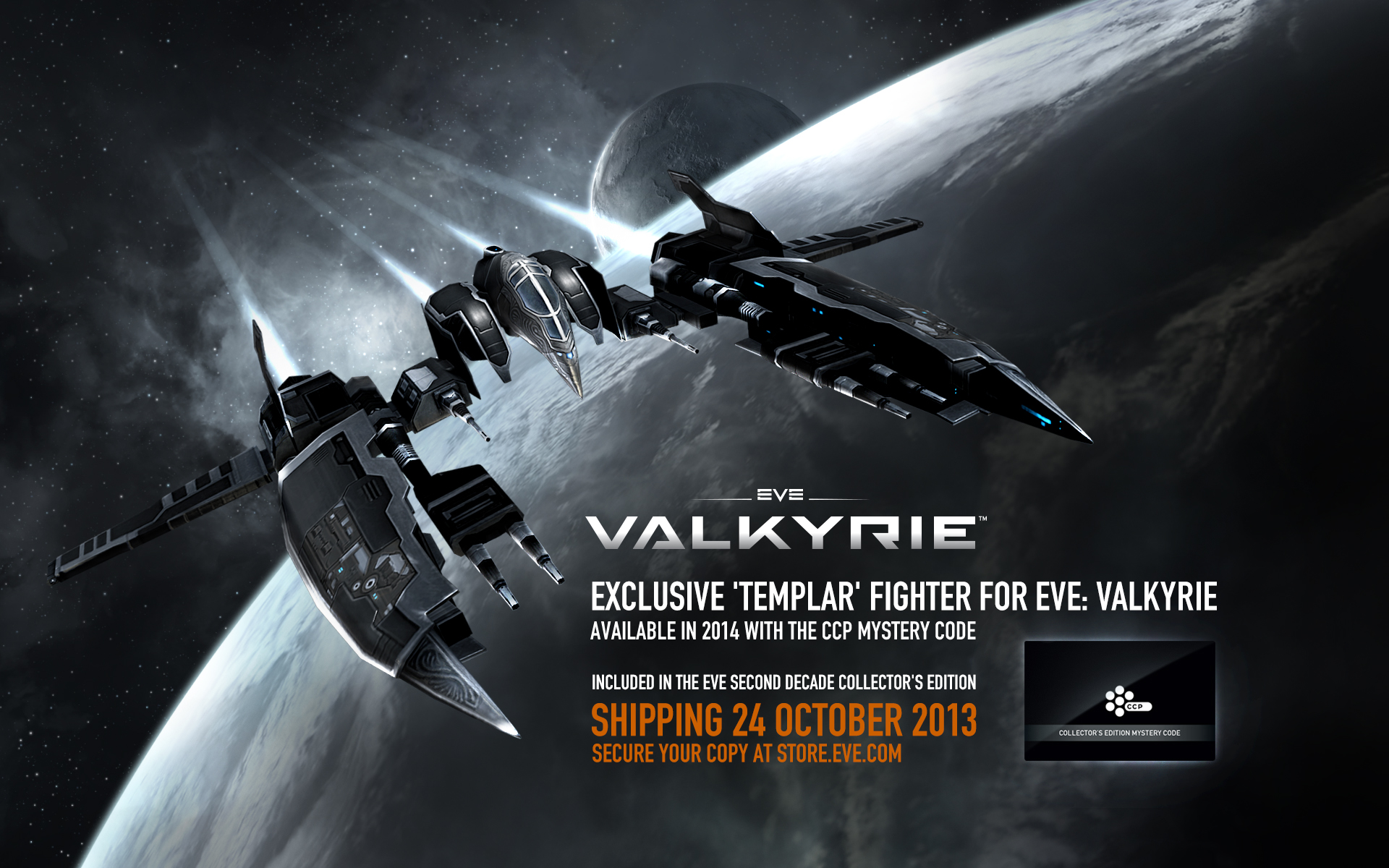 This is just the beginning of what the Mystery Code will unlock.  In the future, whenever we have big things happening—not just across the EVE Universe but across all CCP games—you will find a Mystery Code element to enjoy.
There's much more planned we can't discuss right now, but you can rest assured that as we continue our journey into the Second Decade with you, the Mystery Code will be your perfect traveling companion.
Fly safe, and hope to see you soon at EVE Vegas!
CCP Pokethulhu
EVE: The Second Decade Collector's Edition will start shipping on October 24 2013 and is available for pre-purchase now via the official EVE Store.
Mystery Code holders will be notified via email when there is new content to redeem
All EVE Online items delivered as part of the Mystery Code will be available to trade on the in-game market should code redeemers decide to do so. Functionality for EVE: Valkyrie items will be announced at a later date
New to EVE? Start your 14-day free trial today.
Returning pilot? Visit Account Management for the latest offers and promotions.