Community Spotlight: EVE Down Under
EVE Online was created and developed in the northern climes of Iceland. Yet it has spread across the globe. Nowhere is its global reach more apparent than in Australia, which is more or less on the complete opposite side of the globe. There is a thriving player community in Australia, made even more impressive by the fact that EVE's daily downtime lands right in the middle of their prime playing hours. The Australian player base are as passionate and invested as any we have.
Nowhere is this more apparent than in EVE Down Under. This player gathering brings together fans of EVE online from across Australia to celebrate their passionate devotion.
Early Days
RDNx is the man behind EVE Down Under. An EVE player since 2009, he was fortunate enough to attend Fanfest in 2011. The whole event was fantastic for him, but he realized not many players from Australia or New Zealand can make the mecca-like pilgrimage to Iceland. As mentioned before, if you drill a hole straight through the Earth from Iceland, you'll come out just south of New Zealand!
After returning from his glorious Fanfest, RDNx decided he wanted to try and bring some of the magic Down under to an event accessible to EVE players in the Australian Time Zone. He had already started a weekly Friday-night chat show (also called EVE Down Under) for the AUTZ players on the Internet radio station netGameRadio, with a goal to help build a community of Australian EVE players. However, his goals would have to wait for a time.
He was lucky enough to attend Fanfest a second time in 2012, obtaining a media pass to cover the event for his radio show. This gave him the opportunity to talk to a number of people with CCP, such as Navigator, Soundwave, and Manifest, all of whom were very supportive of his suggestion of running an EVE event in Australia.
Thus upon his return from Iceland, he and fellow organizer Bam Stoker committed to running a "min-Fanfest" for Aussies and Kiwis, EVE Down Under 2012, on November 23-24.
Smash Hit
From the first announcement about EVE Down Under 2012, RDNx received strong support from those within the AUTZ EVE community, particularly those he knew from the radio show. Initial expectations were 40 to 60 players would attend. However, as news spread about the event and buzz grew, they ended up getting over 140 players from around Australia and New Zealand!
That amount of participation completely blew away RDNx and the other organizers, especially given no one knew what to expect. Additionally, virtually everyone who attended said they had a fantastic time and that is significantly exceeded their expectations.
As the second year of EVE Down Under approaches, it looks only to grow larger. Already 123 people have confirmed they are going to attend, and going by trends from the previous year, it looks like well over 200 people will attend. Among those guests will be none other than CCP Fozzie, who is being sent to discuss how being a subject of the Queen of England is different in Canada than it is in Australiacitation needed.
Expectations and Challenges
One of RDNx and Bam's original goal was to try and run a mini-Fanfest, so a big challenge was to organize a professional event where attendees felt they were getting good value for their money. Whilst the ticket price of $80 did not cover all the costs, they felt it was more important to provide that positive experience, something that people would value. They managed to pull it off exceptionally, with the free beers for an hour and a half on Friday night helping out.
Another way they managed to pull it off was by wrangling CCP participation in the event. After some abortive attempts resulted in unanswered e-mails, Bam Stoker decided to file a support ticket which wound up in the hands of CCP Guard. After a number of back and forth messages, Bam and RDNx managed to convince Guard and Navigator that they were running a serious event. This led to them being supplied with a number of great give-away prizes, including a couple of ship models and a Skype call to Iceland from Fozzie, Navigator, and Dolan.
RDNx admits this call was the thing he was most nervous about. Though he had tested the venue's internet connection and was confident it was stable enough, he held his breath because of the finicky nature of transglobal internet. Additionally, as the planning for the Skype call came quite late in the process, there were some details that were left unmentioned until late. Luckily, everything came together and being able to talk directly to developers over video was one of the highlights of the event for many.
Luckily for them, as already mentioned, CCP Fozzie will be joining them in person this year, meaning there's no need to worry about the internet. They just need to hope Fozzie isn't carried off by a bunyip.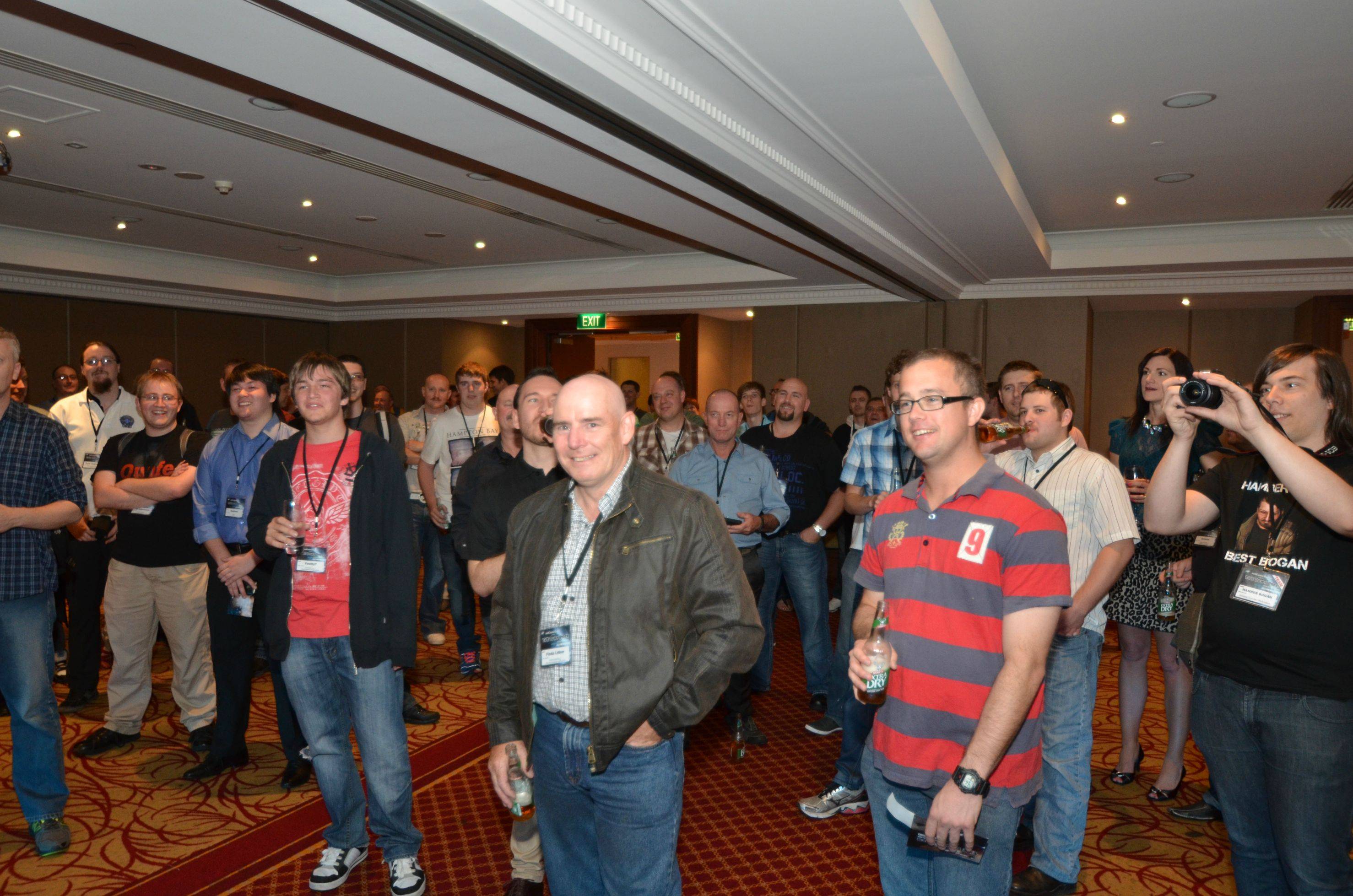 A shot of some of the attendees
Memories
The first gathering was not solely notable for CCP's presence. After all, it is the players that makes these events great! So there are naturally many amazing memories that came from those two days late in November 2012. One of the ones that has stuck with RDNx the most was the hour-long session of 1 vs 1 PVP.
Two players at a time would come on stage utilizing two accounts with identical character skills. They were given 2 minutes to fit a ship (being provided with a large range of T1 frigates and fittings), undock, warp to a safe spot, and have a 1 on 1 battle.
By coincidence, the famous Garmon (known for his PVP prowess) happened to be holidaying in Australia at the time and attended the event. He was volunteered to participate by his friends, but when he was announced as the next participant, more than a few people didn't believe! Of course, Garmon won his first round, and when taking volunteers to step up to challenge him, a number of hands went up! Again, by coincidence, the player RDNx selected was a keen 1-on-1 player and was a fan of Garmon to the point of calling him a hero.
The match wound up being exceeding close, with the entire audience on the edge of their seat! Garmon eventually won, ending the match with his frigate in low structure. The player involved subsequently had a hard time convincing his corp mates about his near-victory, until he provided photographic proof.
Advice for Others
Obviously setting up an event that has been as successful as EVE Down Under is difficult. For others who are looking to follow in his footsteps and set up their own local player meets, RDNx wants to remind people that while they are a lot of fun, they take a lot of work to organize! There are a hundred small things to do, some of the more important ones being the following.
Have a good facility, including good audio so people can hear the speakers. Have banners made so people know they are in the right place. Make sure there is a variety of interesting presenters and activities for the attendees. Be sure there is a secure transaction website (such as Paypal) for players to buy tickets through. Make sure your registration process works both before and during the event. Of course, having the event in a convenient location (like Iceland, obviously) is vital to getting attendees! Make sure the event is on a date which is suitable for the majority of the target audience (November is the start of the summer in Australia, when most students have finished for the year). Give people plenty of time to socialize and chat during the weekend with other EVE players. Finally, have a sponsor to help fund the event, given all the cool things you want to do.
As you can see, it's not an easy task to pull off a successful player gathering! But RDNx and Bam Stoker have managed to do it once already and are prepared to continue it on into a successful future!
Final Thoughts
RDNx is a self-declared high-sec carebear. He lists his major in-game accomplishment as traveling to every single high-, low-, and null-sec system in the game, which took him 4 months and 23 Condors. Currently, when not doing radio shows, organizing events, or other AUTZ community activities (such as the in-game EVEDownUnder channel), he is an industrialist who focuses on building stuff.
Out of game, he's a software engineer by training, and is the Technical Director of a software engineering company he owns/manages. The company has an office in the UK to which he regularly travels, allowing him to attend EVE Fanfest for the past three years.
He wants to remind people that EVE Down Under is more than just him or the once-a-year event. It is ALL about the EVE community in the Australian Time Zone. One of his primary goals is to bring the community together and provide various places where AUTZ players can interact. He doesn't care about corp, alliance, or coalition affiliation, as long as they are active in the AUTZ. Nothing makes him sadder than knowing there are hundreds or thousands of AUTZ players playing in ones and twos, not realizing there's larger groups in the time zone which has the potential to create a far richer experience for them.
He'd like to thank everyone who's helped and supported in this endeavor, including Bam Stroker, Dark Razer, Hamber Bogan, and all of the players from the major AUTZ corps and alliances.
You can follow along with the EVE Down Under community in the following ways:
Weekly EVE Down Under radio show that goes live 10:30 EVE time Friday (8:30pm Friday night for east coast of Australia) on www.netgameradio.com.
In-game channel EVEDownUnder, which provides a place for AUTZ players to chat and generally interact in game.
Web site www.evedownunder.com – which currently has the Event as the focus, but will be expanded after EVE Down Under 2013 to incorporate the news and forums at www.eveonline-au.com.
The EVE Down Under Twitter account @evedownunder
A maintained list of corps and alliances known to be active in the AUTZ (//eveonline-au.com/index.php/autz-corps/autz-corp-list-summary)
Teamspeak server where groups of players from various corps can chat in a neutral environment, who otherwise might be exceedingly uncomfortable about joining an "enemy" comms, and organise various activities in the AUTZ (e.g. NPSI roams, Free For All's).
And of course, the yearly EVE Down Under event in Sydney, Australia, being held this year from November 29 to December 1.
Finally, some last words from RDNx. "If you are an AUTZ EVE player and want to know what's going on in the community, jump into the EVEDownUnder channel in-game, listen into the weekly EVE Down Under radio show (10:30 EVE time Fridays), and come along to EVE Down Under 2013 in Nov, in Sydney, it is going to be huge!"