EVE Online Black Friday Sale – New Account, 99 Cents
[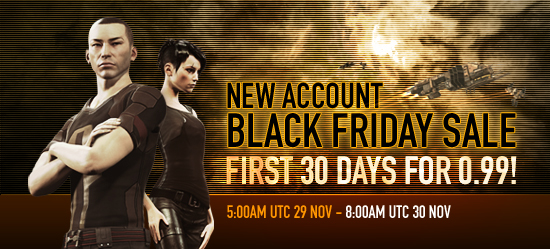 ](//secure.eveonline.com/buy/?utm_source=Community news feed&utm_medium=banner&utm_content=Black Friday new account offer&utm_campaign=Black Friday new account offer)
With the great success of EVE Online: Rubicon, CCP is happy to announce our EVE Online Black Friday Sale! The offer starts at Midnight in New York (05:00 UTC on November 29) and ends at Midnight in California (08:00 UTC on November 30)
We are offering brand new accounts with 30 days of game time for only 99 cents. Head over to account creation and start your adventure today.
In addition, all users can choose one of four specialized exploration frigates to aid them in their future endeavors toward economic, industrial or galactic conquest.
The striking, militaristic Sukuuvestaa Heron
The distinctly royal Sarum Magnate
The hard-shelled Vherokior Probe
The sleek Inner Zone Shipping Imicus
Please note that accounts created through the "EVE Online Black Friday Sale" are not eligible for participation in the affiliate program or any other promotional offer.
You can check out more about EVE Online: Rubicon here.