Name Our Meeting Rooms – Round Two!
If you'd like to discuss this dev blog or the new office, feel free to do so in this comments thread.
If you'd like to submit an entry to the contest, please use this thread, which is only for contest entries!
As part of GM Week, we announced the start of a contest on August 20 for pilots to assist us in naming meeting rooms in the new headquarters that we'll be moving into during winter 2019/2020.
Right now, the meeting rooms in our current building on Grandagarður are named after our expansions, however we wanted to put a different twist on our new building and allow our amazing pilots to have an impact on the environment we'll work in.
If you're interested in learning more about the building we'll be moving into and where future expansion and content for EVE Online will be produced, you can head on over to the website for the new building that the developer has set up at Gróska.is.
Results Of Round One!
The results of round one are pretty clear, although there was a lot of heated discussion about what category we should go for, which was a selection from the following:
Ship Class Names
Solar System Names
Region Names
Constellation Names
Ship class names came out on top by a substantial margin!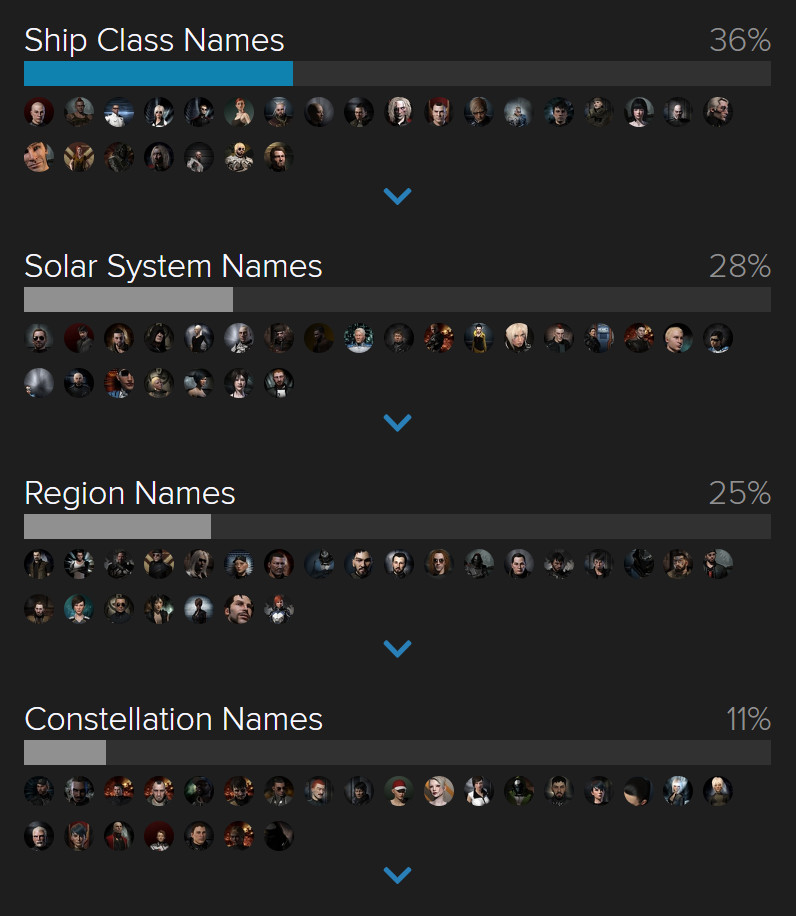 You can check out the full voting thread and discussion here.
How Does Round Two Work?
So, we're going with ship class names. This means our meeting rooms will end up with names like Avatar, Erebus, Zealot, Deimos and so forth.
We're looking to collect the names of 30 ships, as this is around the maximum number of meeting rooms that we'll have in the new building.
From there, once we have the spaces finalized, we'll assign these names to rooms.
This means that all 30 might not end up being used, but we'll use as many as we can depending on the space we allocate as meeting rooms.
The Contest!
What do we need from you, and how do you enter?
It's quite simple. We've got a second forum thread set up and we want you to nominate ship names.
The instructions are simple, you need to post in the thread with the name of the ship type you want to nominate – but there's a twist.
With the name of the ship type you want to nominate, you need to submit a short description of WHY you're nominating this ship type. This can be a short story about an experience you had in that ship type, a snippet of information on why you love to fly the ship, or something similar.
The text should be around 100-125 words, so that it's not too long and easy to read.
If you don't submit this along with the name of the ship, then your entry won't count, so be sure to give context for why you're selecting the ship type that you are.
Why The Text?
We want our community to have a lasting impact on the building that we're going to be working in. Stories from our players provide inspiration and good vibes for staff at CCP, so we'd like to have as many as possible on display around the building.
Right now, our current office has panels like the on the walls inside each meeting room, and the name of the meeting room on the glass outside:

The new building will have something similar, with a twist.
On the outside of the meeting room, we'll have the name of the room (the ship class), and in smaller text below, the name of the player character that selected the name of the meeting room.
Inside on the panel, we'll have the name of the meeting room, some kickass artwork of the ship and the pilot's name and avatar, along with their story, printed so that everyone who uses the meeting room can read it and enjoy it.
How Do I Submit A Entry?
We need to provide some very clear and concise rules for this contest to make it fair, so here's a list of things you'll need to do.
It should contain the name of the ship class you want to nominate.
Beneath that it should contain the text for why you've chosen to nominate it.
If you're unsure, check this example that I've made for how you should format it.
Guidelines:
Text must be between 100-125 words.
Minimal amounts of profanity, please!
In character context will earn you bonus points but isn't a requirement.
If you want to make multiple submissions, create one post for each for ease of tracking.
Any posts that are not valid submissions to the contest will be removed from the thread.
Running Time And Prizes:
The contest begins as of this post, and submissions close at 00:00 on 2019/10/01.
The winning 30 entries will be announced at EVE Vegas 2019, with a follow up blog post confirming the winners.
Of course, winners mean prizes, so here we go. Each of the 30 winners will receive the following:
1500 PLEX
A printed physical copy of the artwork that will go on the panel in the room.
This printed copy will be signed by the EVE Dev Team.
We'll also include a digital, unsigned copy of the artwork too.
The prizes will be delivered in two stages.
The PLEX will be delivered once we return from EVE Vegas 2019, on or before 2019/11/01, and the artwork will be mailed to winners in early 2020 (during Q1 or Q2), once we're moved into the new building and have settled in.
The Technical Stuff!
Given that this is a contest, all our base rules apply, in addition to the following points:
No purchase is necessary to enter or win.
There is no limit on the number of submissions you can make, but you can only win one prize.
Your character name must not offend human decency nor get CCP sued, the determination of either being in CCP's sole discretion. If CCP cannot use your name, it reserves the right to choose whatever inoffensive name it so desires.
Your entry must be submitted in the contest thread, and must be formatted correctly as per the example.
The contests runs from today to 00:00 on 2019/10/01
Winners will be announced at EVE Vegas 2019 and via blog for confirmation afterwards
Prizes are subject to change and will be awarded at CCP's sole discretion.
Prizes may be taxable depending on your local laws. All taxes are your responsibility.
CCP employees are not eligible.
CCP is not responsible for lost, late, misidentified or misdirected entries, or computer performance, errors, delays or failures.
If, for any reason, the fairness or integrity of the contest is questioned, or CCP's administration or fulfillment of the contest becomes impracticable, CCP reserves the right to terminate or modify the contest, and to disqualify any individual who tampers with the registration process or the administration of the contest.
Any and all disputes arising out of, or in connection with this contest will be handled on an individual basis and in accordance with the laws of Iceland.
Contest void where prohibited or restricted by law, and all applicable federal, state and local laws and regulations apply.
CCP may use your physical and/or e-mail address to contact you regarding CCP's services and other offers and/or contests.