Relaunching the EVE Store
As some of you may have noticed, the EVE store has been as closed as the welded-shut Incarna door for quite a while, despite the metaphorical sound of banging and clawing at the gates by people wanting to some deep meaningful retail therapy.
We are happy to announce that not only are we re-opening the EVE Store, but we are rebooting it with a whole new lineup of goods in conjunction with an excellent partner in the space. Our mission is about servicing you with a steady stream of high quality products, tasteful designs and premium service.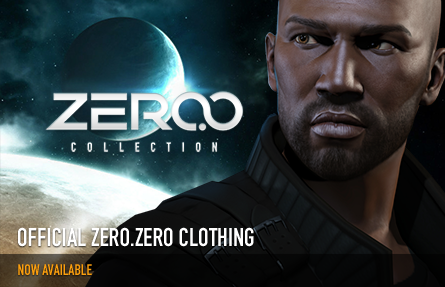 Rather than trying to do all of it ourselves in the frozen tundra of Iceland, we have partnered with Musterbrand, people that have proven themselves in representing some of the most sacred brands in gaming, such as Assassins Creed, Resident Evil and Metal Gear Solid.
CCP's creative talent has been working closely with Musterbrand for over a year, planning and driving the concepting and theming of the designs, ensuring that what's available for you is as authentic New Eden gear as you can find on this side of the EVE gate wormhole.
The initial offering is from our new premium line, called the Zero.Zero Collection. It embodies the strong artistic ambition and spirit of New Eden and its capsuleers. Some of it is also very comfy to wear! New items will be coming online frequently, taking your input and preferences into account, as with everything we do.
As well as featuring premium Musterbrand products, the store will also offer other cool gear from CCP partners, such as the New Eden MoMA T-Shirt, featuring the map of New Eden, which is part of the EVE exhibit at the New York Museum of Modern Art. The shirt will also be available in the MoMA gift store, for those capsuleers stationed in the Big Apple.
We are excited to premiere the new EVE Store. We're actually so excited that we will announce more products this coming Saturday at the CCP presents Fanfest keynote!
CCP t0rfifrans and CCP brooklynNinja