Alliance Tournament Eight: How To Tune In
Hey there, it's your friendly neighborhood StevieSG,
We, the mighty at CCP, have been working hard to bring you the eighth Alliance Tournament which kicks off its qualifiers this weekend.  Over the next three weeks, sixty-four of EVE's brightest and best alliance teams will battle it out to the final weekend on June 19 and 20 to claim the title of Alliance Tournament Champions.
Tournament Streaming
I am delighted to announce that this year we will broadcast not only the finals but all three weeks of matches LIVE via EVE TV from 14:50 GMT until 21:00 GMT each day in glorious High Definition. You can tune in here to watch those matches.
Our regular "studio show" returns on the final weekend, complete with guest dev team members, a chance for viewers to win some awesome prizes from NVIDIA and more!
Tournament Prizes
It's not only the spectators who stand to benefit from this awesome event; EVE's content team are delighted to announce that along with a pile of ISK, a mountain of respect and a fountain of kudos from the EVE community, the winners of the tournament will receive these beautiful rare ships designed by CCP Nozh: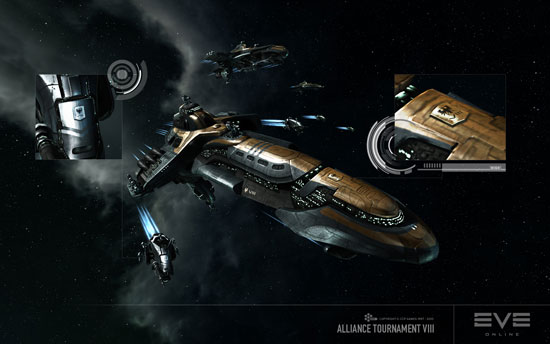 There will only be fifty (50) of each ship in the EVE universe, 50 Adrestia's belonging to the winning team and 50 Utu's to those in second place.  Adrestia means "wargoddess,"  "the sister of Deimos and Phobos"  and "she whom none can escape" in Greek mythology, and  Utu  means the "god of Sun and Justice, brother of Ishkur."
The winning team receives:
50x Adrestia Heavy Assault Cruiser
Gold Medal for each participant
50 Billion ISK
The second place team receives:
50x Utu Assault Frigate
Silver Medal for each participant
25 Billion ISK
The third place team receives:
Bronze Medal for each participant
25 Billion ISK
The fourth place team receives:
How To Tune In
If you want to see who ends up winning these stunning ships, connect to our live video feed on those weekends, stay tuned for news Items on upcoming matchesand especially tune in to our Finals Studio Show on the 19th and 20th where you can watch special dev guests, bask in the glory of our glorious host CCP Soundwave and take a look at some never before seen featurettes including a  special on the CCP video team behind the Tyrannis trailer. Not something you want to miss!
WARP DRIVE ACTIVE PODCAST
If you can't wait for the weekend, Warp Drive Active is proud to bring you our first Alliance Tournament Podcast. You can tune in right now to listen to CCP Claw, CCP Soundwave, CCP Charlie and myself talk about the tournament with host Winterblink as well as get a chance to meet some of our expert commentators:  KIL2, Verone, AngelHUN and Darius JOHNSON.
For the first weekend of matches, team rankings and more - see the Alliance Tournament 8 Mini-Site.
Forums and IRC Chat on Coldfront.net
If you want to chat with fellow viewers while listening and watching the shows, we'll be invading the #eve-online IRC channel on Coldfront for the three weekends. Check the Coldfront website for information on using IRC or to use their built in chat interface. You can also go straight to our Tournament Forum to find rules, discussion threads and community run events around the tournament.
For Those Of You Who Can't Tune In...
All match replays will be available on CCP's YouTube Channel within a couple of days of broadcast. CCP Charlie will have a thread in the Alliance Tournament forum with information and links to individual playlists. As with last year, the Interstellar Correspondents will be providing their own coverage of the whole event, you can check out their site from last year here.  You can also join us on Tournament Twitter and keep an eye on the Official EVE Online Facebook page to keep up to date with everything.
Eve Voice and Radio Shows
If you just want to listen to the matches, you can tune in direct to our EVE Voice feed in channel Alliance Tournament in game.  We also have several awesome community radio stations that may be providing talk shows or coverage and adding their own thoughts, analysis and a few songs here and there to fill in the gaps. Make sure you check the forums for announcements from these stations on the coverage they are planning for you! These stations are Eve Radio - www.eve-radio.com  Split Infinity Radio - www.siradio.fm and New Eden Radio - www.newedenradio.com
Hope you enjoy watching it!