Art Of New Eden Limited Edition Sales Close This Weekend!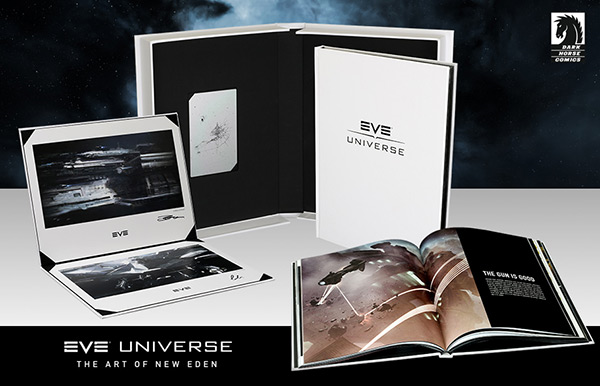 The Limited Edition of The Art Of New Eden will be available for the next 36 hours (until the end of April 17) or while supplies last, here for €89.99 / $89.99 plus shipping!  After this, it will only be offered at future CCP events! 
The Art of New Eden Limited Edition has a limited edition run of 2,001 units, and features:
A beautiful white leather-like clamshell protective box with an embossed black logo.
An anodized aluminum commemorative and numbered plaque embedded in the protective box.
Two lithographs by EVE artists Borkur Eiriksson and Pavel Savchuk in a protective sleeve.
A unique selection of in-game clothes redeemable on the EVE Account Management site (//secure.eveonline.com/)
The limited edition is bound in white leather-like cover with embossed black logo.
Revealing more than a decade of images created during the development of EVE Online, DUST 514, and EVE: Valkyrie, The Art of New Eden takes you behind the scenes of this unique, award-winning game universe.
Immerse yourself in the world of New Eden through hundreds of never-before-seen pieces of art. Explore everything from early napkin sketches to modern, intricate designs and illustrations. In-depth commentary from the developers reveals the secrets behind this limitless world, giving you access to a deep and immersive sci-fi experience unlike anything else in the universe.
Don't miss out on the opportunity to own this amazing piece of EVE history. Check out the Art Of New Eden website for further details and order yours today!