Email verification and you
Greetings EVE Citizens!
Today I want to bring you an update from Team Security and our wonderful Team Mammon, responsible for our Account Management system, in extension to the Fanfest presentation  from Team Security this year. In the presentation we discussed some of the upcoming security improvements coming to EVE, and today we've got some of this hitting Tranquility!
Specifically, we've been working on ensuring that we always have a valid email on file to contact you , especially for things like petitions. This is not only critical for if you should lose access to your account, this is also a requirement for some of the security features we've got coming down the pipe.
As of today, any new account created will be sent a mail with instructions for how to validate their email with our system. All new accounts will have to go through this step, as is standard these days for almost all online games. When you sign up for an EVE Online account, you'll be greeted with this: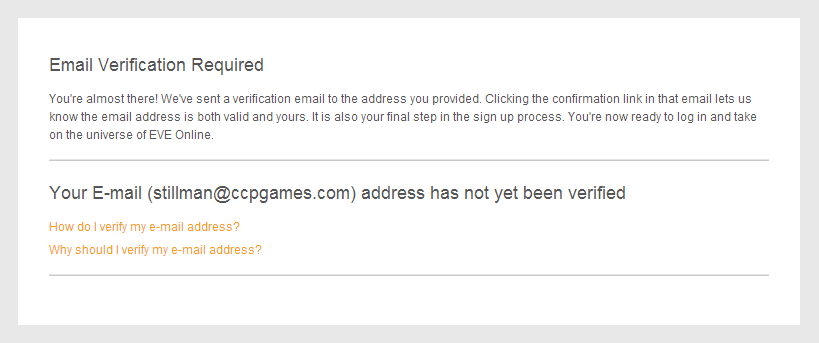 Existing accounts can also optionally verify their email with the button on Account Management. This will ensure that we will be able to contact you, and once we're ready to discuss further some of the other projects we're working on, accounts with verified email will be able to opt into these new systems without having to verify their email at that time. To verify the email on an existing account, simply go to Account Management and click the "Edit account information" button under the "Account" tab, and you'll see a button to verify the email: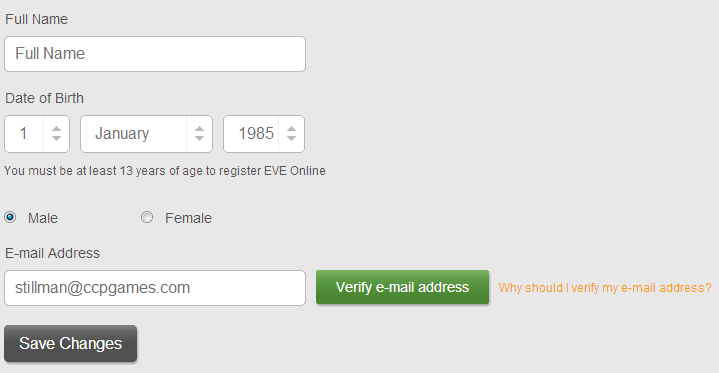 As an additional bonus, we've added a nice little feature that may help those of you out there with multiple accounts. We're adding a new feature which allows you to see all accounts with the same email, directly from Account Management. This will help people to keep overview of accounts they own and be able to log into them with the username field already filled in. The feature can be reached on the front page of Account Management:

We'd like to encourage everybody to head over to Account Management today  and verify their email at this time to ensure that we're able to contact you and that you are able to successfully recover an account should the need arise.
On behalf of Team Security and Mammon!
CCP Stillman