EVE Online Fanfest 2009
The Sixth Annual Party at the Top of the World October 1 - 3
Iceland Beckons... Are You Brave Enough to Heed the Call?
It is time once again to start marking your calendars and making your reservations for the 2009 Fanfest in Reykjavik, Iceland! Get ready for another weekend of PVP tournaments, hanging out with the developers, and partying in a sea of fellow EVE Online fans. As always, Fanfest attendees will be treated to videos and announcements on the future of EVE and what players can expect in the upcoming expansions.
Fanfest returns to the epic Laugardalshöll Convention Center, October 1 - 3. A list of Icelandair world departure points and Fanfest packages can be found below. Last year flights to Iceland sold out so book your flight as soon as possible!
Further details, including Fanfest 2009 Access Pass availability and pricing, will be announced later, as the event draws closer. Stay tuned for further updates.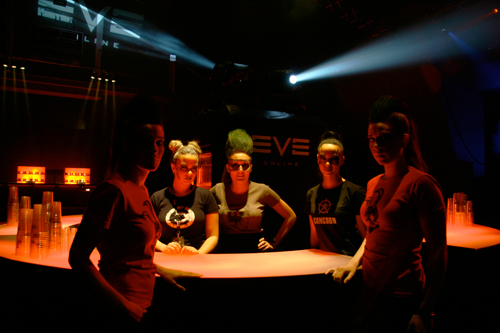 Fanfest brings together players in a massive celebration of the virtual world of EVE Online. Travelers from all around the world gather in one of the most beautiful and unique locations the planet has to offer. Allies and rivals alike set aside their ingame differences to share drinks with one another and forge new friendships. CCP developers mingle with the community, always up for  "talking shop" and getting to know the fans.
Iceland is a once-in-a-lifetime destination vacation. Perlan, the Saga Museum, the Blue Lagoon, the Northern Lights and many other wonders await your arrival. The Sisters of EVE Program will give your friend or partner a chance to visit Iceland along with you: Details regarding the program coming soon.
NOTE: Limit one spouse ticket per Fanfest ticket. Spouse tickets are not available individually-they must be purchased with an accompanying Fanfest ticket.
Please note that you have to be 18 years or older to enter the Fanfest area.
---
Icelandair is offering special rates on a variety of packages for airfare and accommodations. Visit their website for more information and to book your reservations.
Fanfest tickets are sold separately and at a later date. Stay tuned for further updates.
Icelandair Fanfest prices
Click the links below for information about rates from your departing country. All travel packages include airfare and hotel. Also check out Icelandair's main page to view additional special offers.
US: from 719 USD
UK: From 229 GBP
Germany: From 429 EUR
Netherlands: From 429 EUR
Canada: From 825 USD
Norway: From 3.260 NOK
Sweden: From 4.550 SEK
Denmark: From 2.860 DKK
Best regards,
CCP Tyr
And don't forget to check out our great EVE Online Fanfest 2009 teaser video!