EVE Vegas 2013: A Dizzy Roundup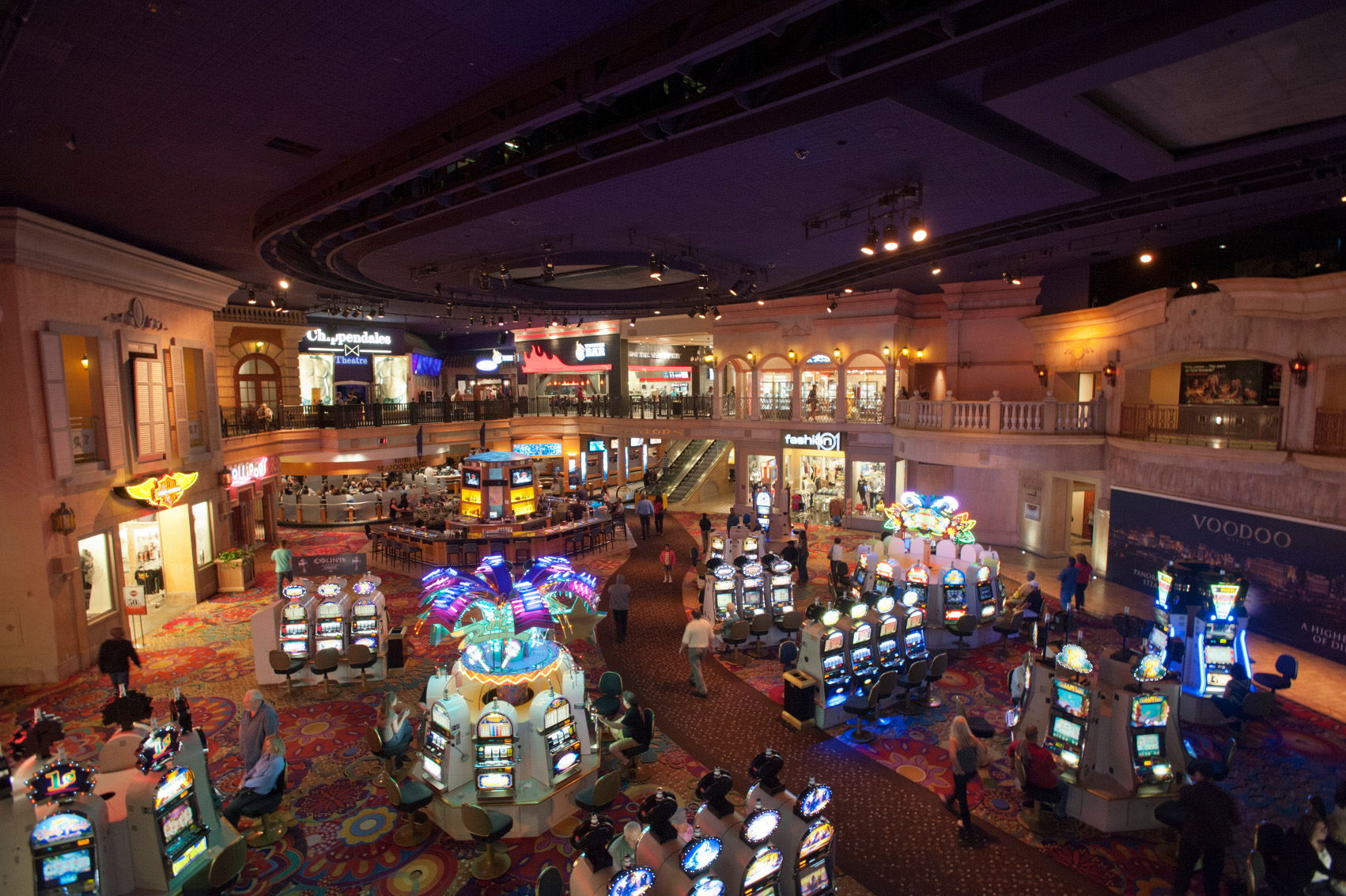 The Rio casino floor in fabulous Las Vegas, Nevada.
Hi everyone!
Having just about recovered from an epic weekend in Las Vegas, I thought I'd take you through the high (and low)-lights of EVE Vegas 2013. As the largest player-run EVE universe event, EVE Vegas features presentations, roundtables, late nights, particularly bad gambling (especially by Devs), interaction with our amazing community and an incredible time. In 2013, we decided to go all in. Now with full CCP Support, we flew over 25 Developers from across the globe to fabulous Las Vegas where they gave exclusive presentations, mingled with fans and gave an insight in to forthcoming developments at CCP.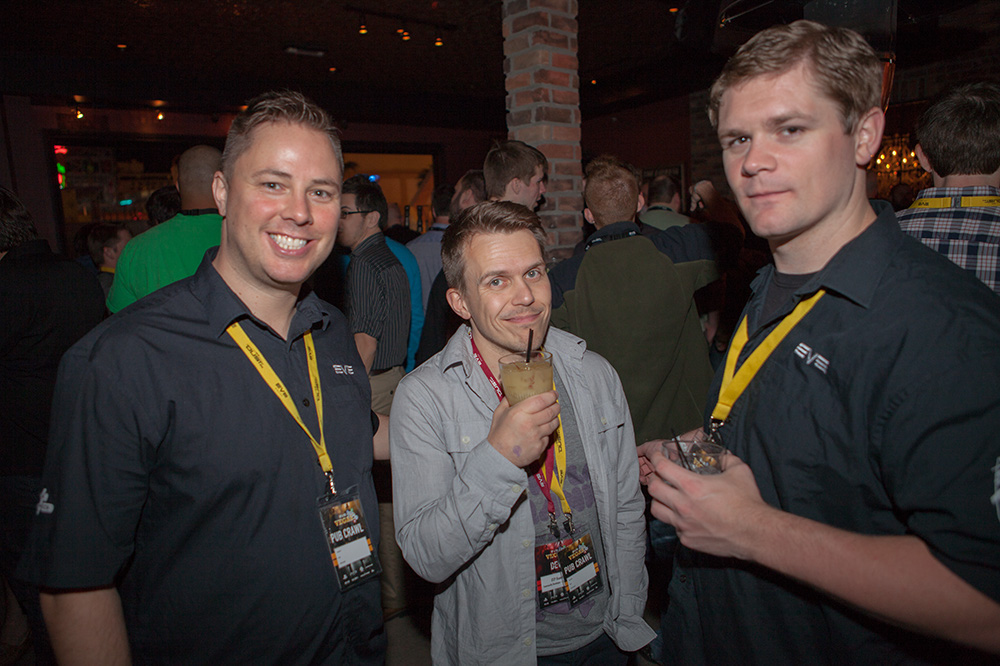 The EVE Vegas Pub Crawl is all kinds of awesome.
As the new DUST 514 Community Manager, this was the perfect opportunity to part-- I mean, personally introduce myself to the Community and get to know them face to face. As mentioned by CCP Guard in his EVE Vegas 2013 reveal, there's no substitute for meeting people in the flesh. I love donning my Dropsuits and piloting kickass spaceships, but personal interaction through events like EVE Vegas helps people gel, form friendships, rivalries and take home priceless memories (from what I can remember).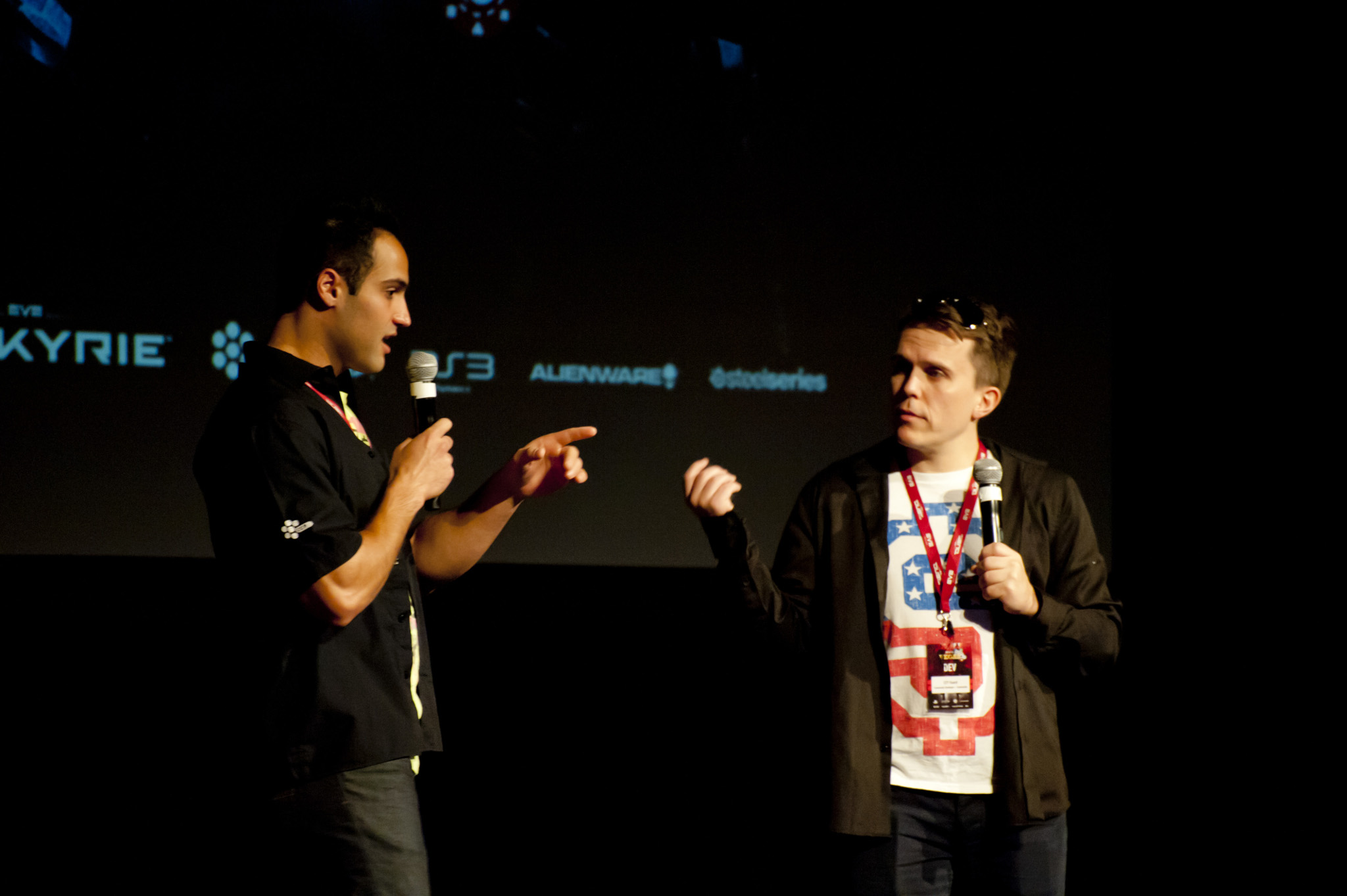 Despite being my sixth week at CCP, I found myself on stage and in front of the camera. Luckily, I had the best partner in CCP Guard and (more importantly) was armed with mindblowing Powerpoint sound effects.
Cruelly scheduled for 10 AM on Saturday, presentations began immediately in the aftermath of the legendary EVE Vegas pub crawl. Weary-eyed and horribly jet lagged, CCP Guard and I kicked off the weekend with an introductory welcome along with a breakdown of all things Community. Capped off by a Keynote by CCP Pokethulhu, presentations and roundtables came thick and fast. Featuring were exciting discussions surrounding EVE: Rubicon, the journey of DUST 514, EVE universe celebrity panels and a fascinating dose of real space travel by NASA's Les Johnson.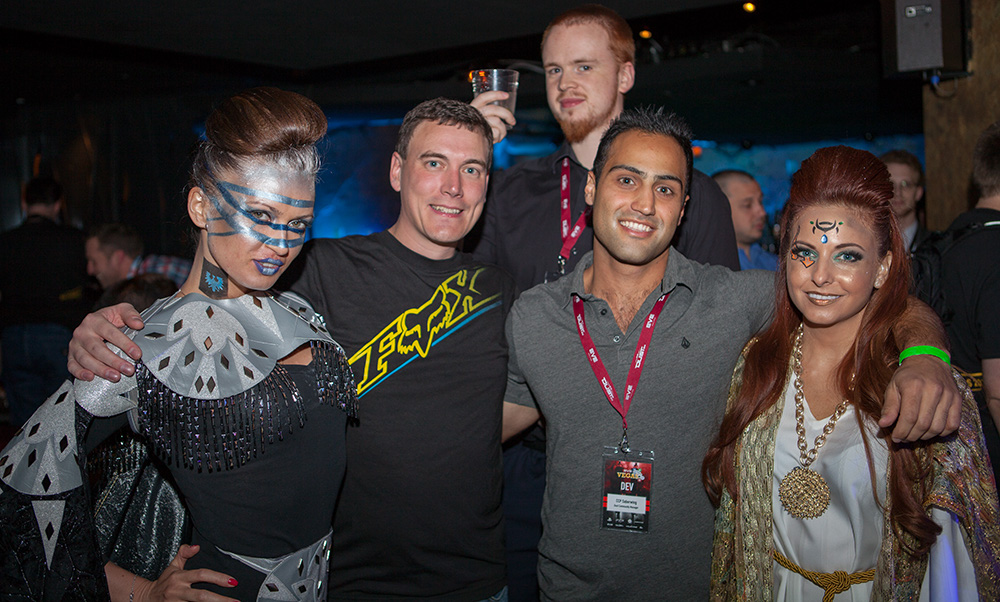 Cramping Chribba's style, while CCP Gargant rolls in with a photobomb of epic proportions.
With the dazzling lights of the casino floor being outshone by DUST 514, EVE and EVE: Valkyrie (in glorious Oculus Rift-ified HD!), players filled every moment of their spare time winning awesome swag in the PVP room (even if they lost -- can't beat those odds). Saturday was then rounded off in style as we took to the exclusive Voodoo Rooftop Night Club at the Rio and with three hours of free food and drinks, it gave me the perfect opportunity to meet and discuss serious business with models kitted in complete EVE getup.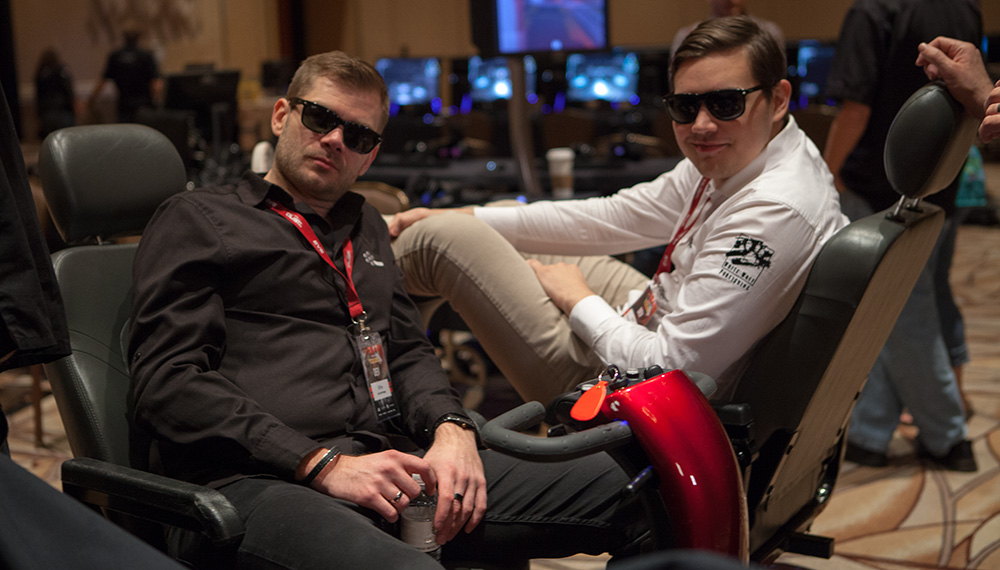 EVE Vegas: a pretty damn good time.
EVE Vegas provided many "firsts" for me: my first CCP event, the first time I've signed a poker chip, my (and many others!) first play of EVE: Valkyrie and the first time I've been so warmly welcomed by a larger community, so -- thank you. To our friends in the Southern Hemisphere, don't forget about EVE Down Under coming your way at the end of this month as that will equally be a blast.
In summary, this year's EVE Vegas ticked every box necessary: sci-fi geekery, limousine pole-dancing and a shared love for the EVE universe. And don't forget free battleships! If you didn't manage to quite make it out this year or missed the EVE TV live stream then don't panic as you can catch up on all of the presentations on the EVE Vegas 2013 playlist. You can also throw things at me personally on Twitter and chat through your ridiculous stories on the forums.
On behalf of the entire CCP entourage at EVE Vegas, thank you to all of the players and organisers alike that helped make this one hell of a weekend in fabulous Las Vegas and we can't wait to see you again next year!
New to EVE? Start your 14-day free trial today.
Returning pilot? Visit Account Management for the latest offers and promotions.