Fanfest 2014 Ticket Holder Raffle! - Exclusive Tour Of CCP HQ!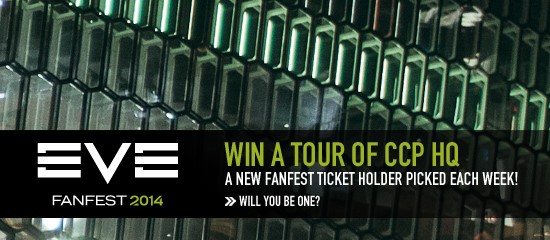 We are happy to annouce that over the course of the next seven weeks, we will be selecting one Fanfest ticket holder each week to be part of a group that will receive an exclusive tour of CCP Headquarters at Fanfest 2014!
The tour will be given by CCP Guard and CCP Falcon, at 11:00UTC on the morning of April 30th, 2014, the day before Fanfest, and the day of the unveiling of the EVE Universe Monument. Those winners who come along for the tour will also be invited to eat lunch at CCP Headquarters, and may also be in for a few extra treats!
The first name has been drawn as show below, and subesequent names will be drawn from the pool of ticket holders on the following list of dates: 
14/03 - Luna Moses
21/03 - Winner #2
28/03 - Winner #3
04/04 - Winner #4
11/04 - Winner #5
18/04 - Winner #6
25/04 - Winner #7
This news article will be updated to reflect the selected winners once their names have been drawn, and winners will be contacted via the email address associated with their Fanfest 2014 ticket purchases!
Don't miss out on your chance to be part of the event packed 10th EVE Online Fanfest. You can order your ticket today on the Fanfest 2014 website by clicking the "buy tickets" icon in the top right of the page!