Fanfest 2016 - Day 3 in review
Fanfest, the annual EVE celebration in the land of fire and ice, saw an incredible final day on April 23 with a lot of in-depth discussions, roundtables, presentations and community interactions!
A brief written overview with the most important news and announcements of the third (and therefore last) day of Fanfest 2016!
But first check out the incredible expansion trailer and the review of day 1 and review of day 2!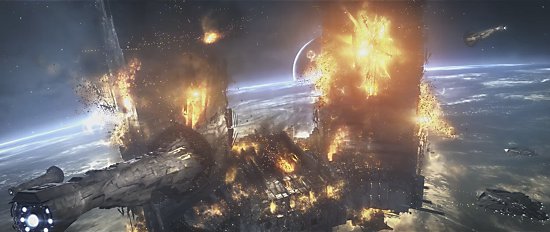 EVE: Citadel feature tour
Upcoming Industrial Arrays
EVE Vegas
EVE Vegas 2016 is going to have full CCP support and will be a fantastic gathering with parties, presentations, roundtables and developer news. The theme for EVE Vegas 2016 is "Trick or Trit" and will take place at Halloween from October 28-30. Tickets are on sale now at vegas.eveonline.com.
Permaband - Wrecking Machine
Permaband, in-house rock band for CCP Games, is back to the future with the official music video for the EVE Online: Citadel cinematic trailer. Bring on the Wrecking Machine!
Art of Citadels
The new Citadel structures are beautiful structures of epic proportions. Creating the visual aspects of them was quite a challenge, it was all done in a well documented and defined process. We have used instance geometry and modular geometry to create blockouts and visuals. Certain (visual) parts got broken down to create separate technical solutions. We have also spent good amount of time to have functional, yet beautiful visuals - think about supercapital docking and the docking areas. To bring life to the concepts, we added moving parts, spline traffic, lights and holograms. 
Art and Graphics panel
The popular Art and Graphics panel gave a review of past 12 months which brought new ships, ship redesigns, ship skins, visual effects, avatar apparels, improvements of old "stuff" and more. With the EVE Citadel expansion we see a huge amount of new art: new force auxiliary capitals, different Citadels in three sizes, Citadels exploding in crazy balls of fire, and Citadel hangar interior. Additionally we will see new superweapons and Citadel weapon effects. For the next releases we already have assembly array blockouts as work in progress.
President of Iceland
The President of Iceland, Ólafur Ragnar Grímsson, was the honorary guest at Fanfest. In a passionate, humorous, yet also serious speech, the president reminded the EVE Community that EVE is not only a continuation of ancient storytelling and sagas deeply rooted in Iceland, but also that EVE inspires Iceland and the icelandic people. EVE gives confidence to continue the journey into modern times. The creativity of the EVE community and CCP has been inspiring! When the president left the stage, he received roaring applause! 
Charity events
The charity events, silent auction and charity dinner, have been a great success. Together the community has raised USD 16.130, amazing! Thank you very much for those! 
Project Discovery tournament
The first science eSports tournament was conducted at Fanfest 2016! Scientific brains fought against each other to get the best research results. A small, but fun event!
Cosplay competition
The Cosplay competition was won by Sancta Basilica in an Armor suit and a Nova knife, follow by Max Singularity as male Fedo, and Gromby Roffo as CONCORD guard. Those costumes and representations are awesome! Thank you for these inspirations and the work poured into the cosplay event! 
Fanfest 2017
Fanfest 2017 will not only celebrate the EVE Universe and its awesome communities, but also the 20th anniversary of CCP! Fanfest 2017 will take place in Iceland from April 6-8. Reserve those dates!
This has been only a selection of all the exciting news and interesting projects currently going on or being planned for the future. Watch out for more info! 
And don't forget, the large EVE: Citadel expansion arrives on April 27.