Important! - Sovereignty Bill Announcement!
We would like to remind all sovereignty owning alliances that as part of the new Aegis Sovereignty system, all TCU maintenance bills have been removed and new Infrastructure Hub bills have been added.
These new Infrastructure Hub bills fall within a new category of bills (and have the Secure Commerce Commission Corporation listed as the Creditor) and therefore old auto-pay settings will not automatically apply to them.
We encourage all alliances to pay their Infrastructure Hub bills and to configure their auto-pay settings for the new category.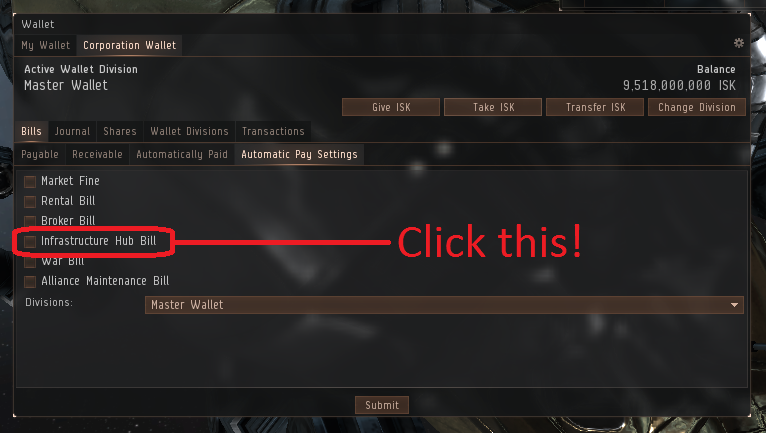 Everyone has one week (until July 21st) to pay the first of their new Infrastructure Hub bills. If bills remain unpaid until they expire, all associated Infrastructure Hubs will automatically self-destruct.
There is also a known issue causing some old defunct TCU bills to remain visible and payable. These excess bills will be removed during downtime tomorrow and will not cause any problems if left unpaid. As a rule of thumb, the old Sov bill that have CONCORD listed as their creditor will be removed tomorrow, but the new Infrastructure Hub bills that have the Secure Commerce Commission listed as their creditor need to be paid.
Any known issues with the Aegis Sov release will be listed in the official issues thread on our forums, and we encourage people to post there and submit bug reports with any issues they encounter.