Little improvements: Making the world a little better
Hi!
I'm going to tell you about a few of the UI improvements team BFF have been working on for Crucible.
Corporation Wallet Tooltip
For pilots who manage corporation wallets it can be handy to see the corporation wallet balance when you hover on the wallet button in the Neocom, instead of your personal wallet balance. We added a setting for those pilots, in the settings tab in the wallet, so they can choose to see the selected corporation wallet division's balance when they hover over the wallet button.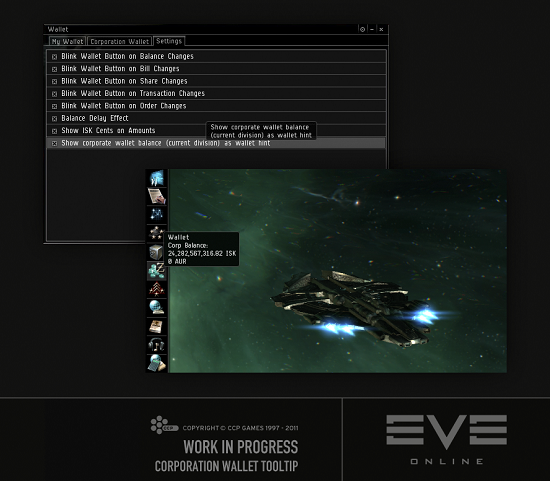 Click to enlarge
World Map Control Panel stays minimized
This was a special feature request by CCP Greyscale, he doesn't like to minimize the World Map Control Panel each time he opens the map, so now the window will stay minimized if you leave it like that when you exit the map. (Team BFF trivia: One beautiful Saturday in October, CCP Greyscale right clicked everything in EVE, everything!)
Insurance info improved
When you would show info on your ship, there was an isurance tab with some information about the insurance status on your ship. We moved that information to the main part of the info window and made it more obvious. Now you can easily see what insurance you have on your ship, or more importantly if you may have forgotten to insure it.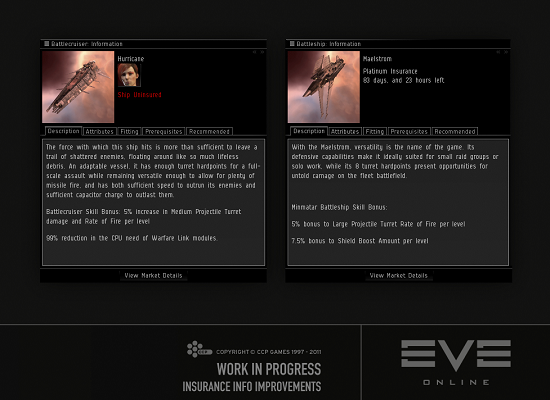 Click to enlarge
Skill info improved
I often have a hard time knowing what group a skill belongs to. To make this easier to find out, we made some improvements in the info window on a skill. When you show info on a skill now, it will show you which group it belongs to, and tell you the training status of it. That way you can easily see what level you have trained the selected skill to, if it's in active training or scheduled in the skill queue. It will also tell you if you don't have the skill injected.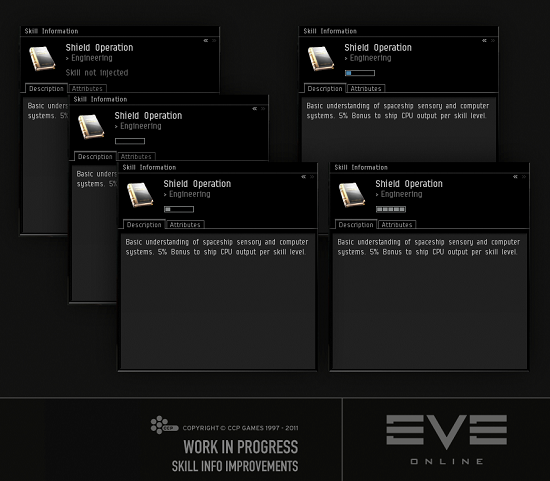 Click to enlarge
Skill queue improved
One of my favorite UI changes for  winter is that, instead of finding a skill you're already training in your list of skills to add next level to the training queue, you can now shift click said skill, and drag it to add next level to the training queue. No worries, you can still drag skills around in the skill queue to reorder them.
We also made some visual improvments on the skill queue and skills in training. A skill that's in training is now highlighted with a pretty blue color in your list of skills. The blinky box for a skill in training has now been colored blue to go with the indication of skills in the training queue.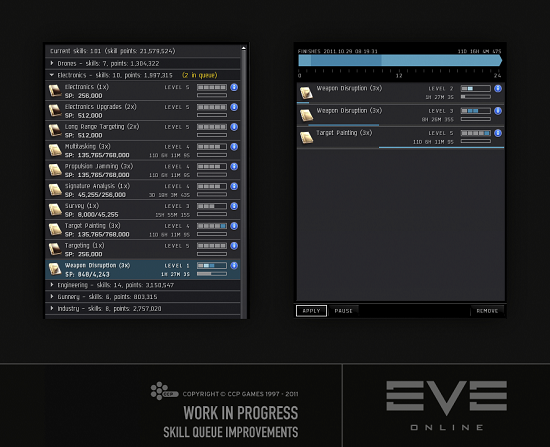 Click to enlarge
That's all for now!
New to EVE? Start your 14-day free trial today.
Returning pilot? Visit Account Management for the latest offers and promotions.