CCPTV Streams 6 - 12 June Schedule
CCPTV has been on a roll these last few weeks, and even though the sun is rising on CCP HQ in Reykjavik, it's not going to stop.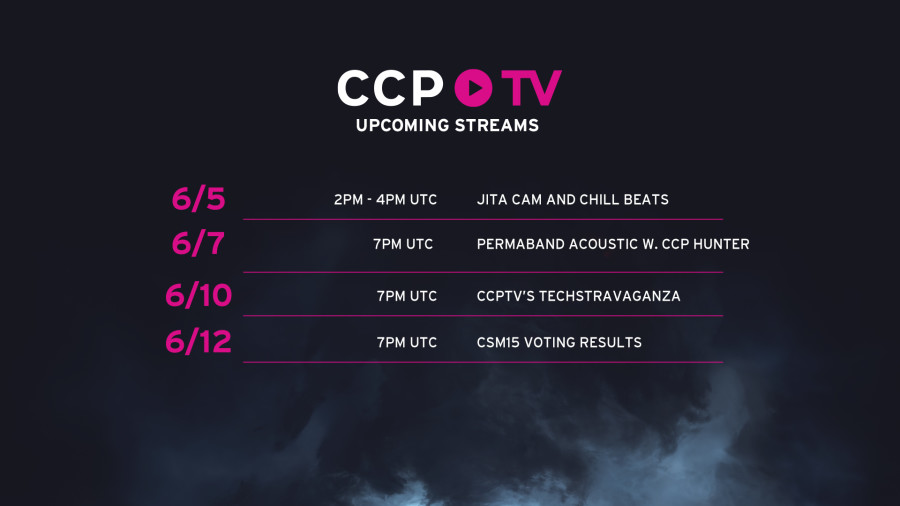 This week on CCPTV:
7 Jun - 19:00 UTC – PERMABAND ACOUSTIC With CCP Hunter.
Permaband's veteran member, the one and only CCP Hunter, has prepared acoustic versions of Permaband's catalog of tunes for your pleasure and will perform for you straight from his living room. He might even throw in a few of his own tracks. Crack open a cold one or heat up some tea, the choice is yours, Capsuleers. Not to be missed.
10 Jun – 19:00 UTC – CCPTV'S TECHSTRAVAGANZA.
It's all tech, all the time with 5(!!!) of CCP's most hardcore technology nerds. CCP Tuxford, CCP Explorer, CCP Vertex, CCP Chimichanga and CCP Merovingian will join CCP Fleebix and CCP Convict for some casual and not-so-casual chat about everything related to EVE technology, and as always, the floor will be open for Q&A on Twitch.tv/CCP
12 Jun – 19:00 UTC – CSM15 VOTING RESULTS
The votes are in! CCP Dopamine and CCP Aurora will reveal the 10 EVE Online players who will become New Eden's delegates live on CCPTV. The results will shock you.Tune in to CCPTV on Twitch.tv/CCP and don't forget to follow so that you never miss an important update (or a non-important but very chill and nice stream).