On Sunday, 5 September 2010, the (player-chosen) primary market hub of EVE Online, Jita, reached the highest official player count in EVE's long history.  At 20:00 GMT this popular location peaked at 2023 players in a single solar system in efforts to stress test new software and hardware solutions from the EVE Development and Operations teams. Getting here has been a long road of improvements in the code and upgrades in the  hardware allowing players to flourish in New Eden.


Figure 1: Growth of maximum player population in Jita since 2008.
Before we released StacklessIO (which was a part of the Quantum Rise expansion) on 16 Sep 2008, Jita would reach a maximum of about 800-900 pilots on Sundays.  It would be "rather unresponsive" at that number of pilots as detailed in CCP Explorer's blog on StacklessIO and not really enjoyable.
Since that release we have continued, for two years now, constantly and regularly updating and upgrading EVE.  The latest milestone reached was this past Sunday when 2023 pilots populated Jita, which is 2.5-fold capacity compared to two years ago.


Figure 2: Players in Jita on 5 September 2010.


Figure 3: CPU usage on the Jita node 5 September 2010.
Some of the fixes we have made over the last two years have been specific to market hubs, such as Jita, or specific to mission hubs, such as Motsu, but most have had an equal effect across the cluster.  For example, the latest software changes we made, the Character Nodes, benefit pilots in any situation, whether that's in a market hub, a mission hub or a fleet fight.
Looking at the historical population graph in Jita (see figure 1 above) it is clear that we made a significant jump now.  We had gone from 800 to 1400 pilots but the population limit had been stable at 1400 for about a year, with a record of 1420 pilots.  Then we jump to 2023 pilots all of a sudden.  This was made possible by the latest software changes that we have detailed in recent dev blogs and by new hardware specifically tailored for Jita.
With the new hardware we are taking advantage of new features in the Intel chipset like Turbo Boost as well as seeing the advantages of lower latency memory even though the clock rate on the CPUs is not significantly higher than our previous servers.  CCP has been working closely with the IBM engineering team to capture the details that get EVE vertical performance increases in a very horizontal CPU market.
While Jita is a starting point for the collection of baseline performance metrics under predictable load, it is not the only place we are taking new hardware and software solutions.  The next big step is finding out if the changes we are making help fleet fights move to the levels players are demanding.
Beginning next week the test blade used in Jita will start taking on fleet fights to capture more performance data and the impact of the new chip architecture and memory on them.
Note that the software improvements are already everywhere on the cluster.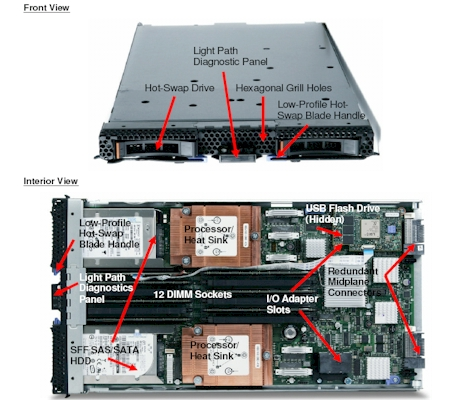 Figure 4: Server Specifications, IBM HS22, 1 x Xeon 4C X5667 95W 3.06GHz/1333MHz/12MB, 6 x 8GB PC3-10600 CL9 ECC DDR3 1333MHz VLP RDIMM, 146 GB 2.5in Slim-HS 10K 6GB SAS HDD, Hyper Threading disabled, Turbo Boost set to max.
Enjoy!
CCP Explorer and CCP Yokai
P.S. To conclude, here are some of the dev blogs we have written in the last two years on performance optimisations and hardware improvements: