Learning skills are going away
With one hand Santa giveth, and with the other he taketh away.
BE AWARE: THE CHANGES OUTLINED IN THIS BLOG MAY SLIP TO EARLY NEXT YEAR IF THEY DON'T MEET THE NECESSARY SOFTWARE AND QA MILESTONES, IN THE SPIRIT OF DOING THINGS PROPERLY RATHER THAN QUICKLY. WE WILL LET YOU KNOW IF THIS HAPPENS.
Ok, so about a fortnight ago (that's two weeks for those of you who don't speak Proper English), CCP Zulu (our august and esteemed Senior Producer) decided he was totally and completely fed up of being asked when we were going to get rid of learning skills, and told us (Team Yggdrasill at your service, m'lud) that he wanted them gone. And there was much cheering. And then someone asked "when shall we do this?", and verily did he reply unto us "by Christmas, or I'm going to give you lot a right proper bollocking and no mistake". And then we went away and dug through the big stack of plans we've made to deal with this in the past - "just as soon as we find time to do it" - and found the best one, and then figured out how to implement it in the time available.
THEREFORE, let it be understood that we have now the following plan:
As of downtime today, all NPC sell orders for the eleven skills in the Learning group (hereafter referred to as "learning skills") have been CANCELLED. They're really not much use in the long run, we don't want to complicate later steps with unusual inflows of skillbooks, and it might go some way towards limiting the amount of scams that we know you're going to be running. Please, think of the

children

newbies.
FURTHERMORE, as of a patch which should arrive on (or about) the 14th of December:
ALL LEARNING SKILLS WILL DISAPPEAR

We're not kidding. In your head, in your hangar or in your anything else, they're gone. Vamoosh. Deleted. Sent to the big recycle bin in the sky. Etc etc.

All skillpoints invested in learning skills will be reimbursed, including all the fiddly corner cases. If you have 2,012,692 SP in learning, you will find yourself down those skills, but with 2,012,692 skillpoints to redistribute.
All skillbooks not currently injected into people's heads will be reimbursed at the old NPC sell price. The money will go to whichever character or corporation owns the container that the skillbooks are in. For example, things in cans you've anchored for yourself will be reimbursed to you, things in corporate hangar arrays or the "deliveries" bin will be reimbursed to the owning corporation.
This will also involve cancelling any and all market orders containing these skills. Contracts containing learning skills will have those skillbooks substituted for copies of the Pax Amarria.
All new and existing characters will have an extra 12 base points (ie, non-remappable) in each attribute.
The 100% training speed bonus up to 1.6m SP will no longer be available. People partway through this bonus will lose the remaining bonus amount. They will of course gain a huge attribute bonus to make up for it.
Miscellaneous other cleanup tasks will be performed that are not very interesting, details available on request.
This, as it stands, represents THE PLAN. We've talked to the CSM about it a bit, and taken their concerns onboard, but the point we're at right now is that there's very minimal room for alterations if we're going to deliver our Christmas presents on time. We will of course be monitoring feedback here for any serious concerns, but please be aware that we've considered pretty much all the options, and we're of the opinion the plan as outlined here represents the best balance between being nice and being sensible. While reading this you may find yourself thinking "wouldn't it be better if you..."; it's very likely that we've already thought of this and dismissed it because it increases the technical workload and therefore (by proxy) the deployment risk, and we don't have time for that sort of thing.
It's also considered empirically likely that, in the process of reading the above, you've had one or more thoughts spring into your minds that start with the word "Why...". Therefore, here are some Whys for you.
WHY TWELVE EXTRA POINTS?
The 10% attribute bonus from Learning applies after all the other bonuses. With the standard mapping it's 8 base plus up to 10 learning plus up to 5 implant, plus 10%. In this balanced example the bonus ends up being 2.3 attribute points; it can obviously vary a little depending on remaps, of course. 12 seemed like a pretty good place to settle. It also means that the default character gets attributes 20/20/20/20/19 (Charisma being one point lower), which looks very pretty and sensible and planned, which is always nice when it happens by accident.
WHY AREN'T YOU REIMBURSING SKILLBOOKS I BOUGHT AND INJECTED?
A couple of reasons. Firstly, in the huge overwhelming majority of cases you've already got more than your money's worth out of them (particularly compared to implants). In the tiny number of cases where people have bought them just recently and not really trained them much, we recognize that this isn't ideal, but still, you dropped ~20m to get +10 in all your attributes, and that's going to happen considerably sooner than you planned. Come January you'll be in a better place with this change than without it.
Secondly, it would mean dumping ~16 trillion ISK into the economy, and CCP EyjoG (our economist and qualified numbers-guy) nearly had a heart attack when we asked if this might be a problem. (He also said "don't do that, please" once he'd recovered from the shock.)
WHY ARE YOU REIMBURSING PEOPLE WITH SKILLBOOKS IN THEIR HANGARS, THERE'S NO REAL WAY THIS COULD BE BAD FOR ME BUT I FEEL OUTRAGED NONETHELESS (WHY ELSE WOULD I BE TYPING IN ALL CAPS)?
Because we determined we could, and because people who have large piles of skillbooks in their stocks are likely to have those stockpiles because they're making an effort to help out new players. We approve of these people and would like to not shoot them in the back if we can avoid it.
(Those of you who have stacks of skillbooks for scamming with, shame on you. Please, think of the newbies!)
WHY DIDN'T YOU SETTLE ON A LOWER ATTRIBUTE COUNT/TRAINING SPEED?
We didn't want anyone to come out of this change with a lower average training speed than they currently have (or at least, not by any noticeable amount). We also didn't want to punish people for making sensible, long-term decisions in the past based on the best information available to them at the time, because this would be terrible design practice.
WHY DIDN'T YOU DO (THING WHICH IS MORE COMPLICATED/EXTENSIVE, EVEN IF ONLY BY A SMALL MARGIN)?
As above, we have a tight timeframe here, so we're deliberately doing the smallest possible set of changes that seem fair and acceptable. We're sorry, but while your suggestion for completely redesigning the entire skills system from scratch is clearly hella awesome, we just don't have time.
WHY OH WHY ARE YOU GETTING RID OF THE NEW PLAYER LEARNING SPEED BONUS?
Basically, we did some math and discovered that giving everyone over twice as many attribute points off the bat, and a training speed bonus, was, well, kinda dumb, in the sense of enabling ridiculously fast training speeds.
If we lose the bonus, you're obviously well ahead of people who had the bonus but didn't train learning skills. It does turn out that, in terms of useful skillpoints (ie, skillpoints not invested in learning skills), if we take the bonus away there's a class of specialized training plan, aimed at getting a particular set of easy-to-reach skills quickly, that leave you slightly better off under the old system for a period between around halfway through month one and around halfway through month two. After that, the new system without the bonus is always better.
If you find yourself repeatedly training up sub-3m SP alts for specific tasks and then binning them, this may inconvenience you slightly. Sorry. On the other hand, each one will now cost you 20m ISK less, so count your blessings there. Also, recycling alts is against the rules and will get you banned.
On the flipside, if we keep the 100% training speed bonus, you'd be able to get into a Drake - with the basic certificates for core competencies, cruiser missiles and passive tanking - in around ten days. This is silly.
For further background, the reason the 100% bonus was put in was so that when we removed a whole bunch of starting skills in Apocrypha (taking new players from ~800k SP to ~30k SP), this didn't create a huge disadvantage. It worked out that increasing training speed by a factor of 2x for a while solved this problem. With this latest change, the addition of the extra attribute points increases training speed by a factor of 2.5x before the bonus is applied. Removing a 2x bonus and adding a 2.5x bonus seemed like a fair exchange.
If you don't believe me, here are SOME GRAPHS:
Graph 1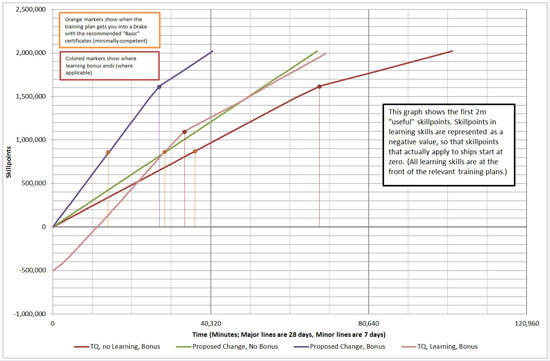 Graph 2
WHY DON'T YOU HAVE ANY MORE QUESTIONS?
My capslock key broke so I stopped.
Anyway, that's 50% of the Christmas presents we're distributing this year (in terms of discrete features). Stay tuned for the other half, coming at some point in the near future to an internets near you.
-Greyscale, on behalf of Team Yggdrasill and the EVE Online development massive.