EVE Vegas 2018 - The Megablog!
If you'd like to discuss this dev blog, you can do so over in the comments thread on the official forums!
Glorious Capsuleers. It's October.
What does that mean? EVE Vegas season is upon us once again!
There's a little over a week to go until EVE Vegas 2018 kicks off, and we're gearing up to see more than 1100 capsuleers descend on Las Vegas for three days of spaceship related shenanigans.
Once again, EVE Vegas is breaking records and it looks like this year it's going to be even bigger than last year's event, which was the largest event outside EVE Fanfest in the history of New Eden.
This year, we've got roundtables, charity raffles, charity auctions, presentations, along with the legendary EVE Vegas party at Drai's, and a new twist on a Friday night event this year – which we'll get to in a short while.
We've only got a handful of tickets left at this stage, so if you haven't already picked up your EVE Vegas 2018 Access Pass, then now is the time to do so – we anticipate that we'll be sold out in the next couple of days, despite allocating more tickets this year!
Checking in at EVE Vegas 2018
You'll be able to check in and collect your EVE Vegas 2018 access pass, as well as tickets and wristbands for additional events that you're attending from 15:00 on October 18th, the day before EVE Vegas 2018 kicks off.
Our amazing team of volunteers led by GreyGal will be on hand to make sure you have everything that you need, and that you're checked in as quickly and smoothly as possible.
Check in will continue throughout each day of the event during program hours.
The lay of the land!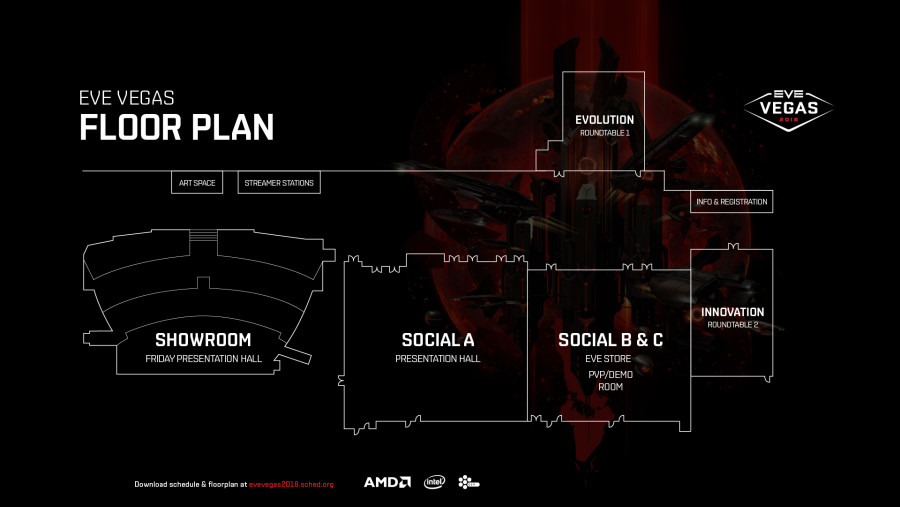 Above is a handy map of the EVE Vegas floorplan.
On Friday afternoon, we'll be using Showroom as the main presentation hall for the Opening Ceremony, CCP Presents, and the EVE Online Keynote.
Given that the capacity of this room is smaller than the total number of attendees at EVE Vegas 2018, we'll be following the same setup as last year, with a large screen in Social A, along with a few beers, where pilots who can't fit into showroom will be able to chill with a drink and watch presentations.
Please be aware that we anticipate that Showroom will fill to capacity on Friday, so seating in Showroom will be on a first come first serve basis until the room is filled.
For Saturday and Sunday, Social A will be our primary presentation room, where you'll hear more about EVE Online, Project Nova, and be able to watch presentations by both players and developers alike.
On Saturday and Sunday, Evolution and Innovation will serve as our roundtable rooms, with Social B and Social C reserved for the EVE Store, and as a PVP and demo room.
The Schedule
Once again, the schedule is pretty simple this year.
You can find it in digital form right here on sched.org.
EVE Vegas 2018 will kick off at 14:00 PDT / 21:00 UTC with the Opening Ceremony & CCP Presents.
Due to popular demand, days two and three of EVE Vegas will start one hour later than last year at 11:00 PDT / 17:00 UTC, to allow pilots who have taken full advantage of the Vegas nightlife to jump into new clones and hydrate, ready for the day.
Here's a brief rundown of the developer presentations that'll be occurring over the course of the three days, which will be supplemented by roundtables and player presenters throughout the day
(All times are PDT/UTC)
Day One – October 19th
14:00/21:00 – Opening Ceremony & CCP Presents
16:00/23:00 – EVE Online Keynote
Day Two – October 20th
11:00/18:00 – Upwell Structures – The Future
14:00/21:00 – Project Nova
15:00/22:00 – Ships & Balance
Day Three – October 21st
11:00/18:00 – Introducing The Activity Tracker
15:00/22:00 – Events & The Agency
17:00/00:00 – Closing Ceremony
Please be aware that the line-up is of course subject to change, so be sure to keep up to date by checking the digital schedule.
For a full view of the schedule in picture form, check out the line-up below: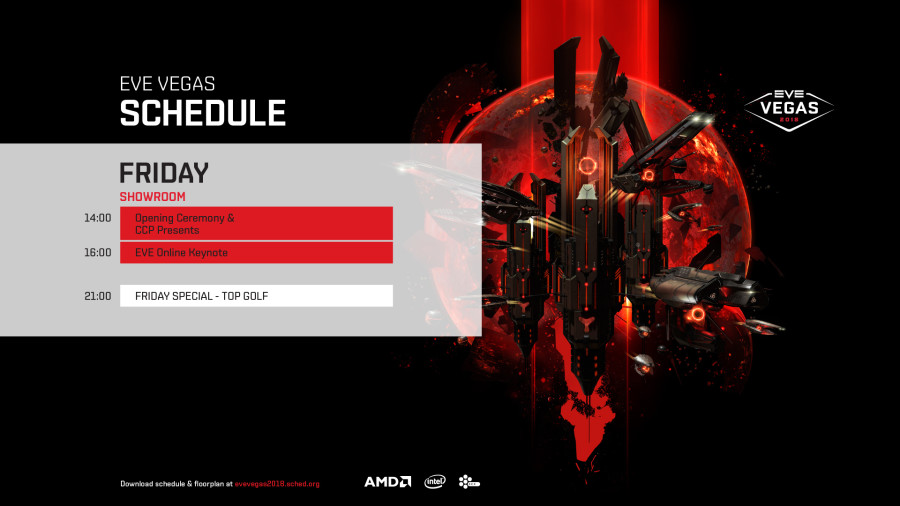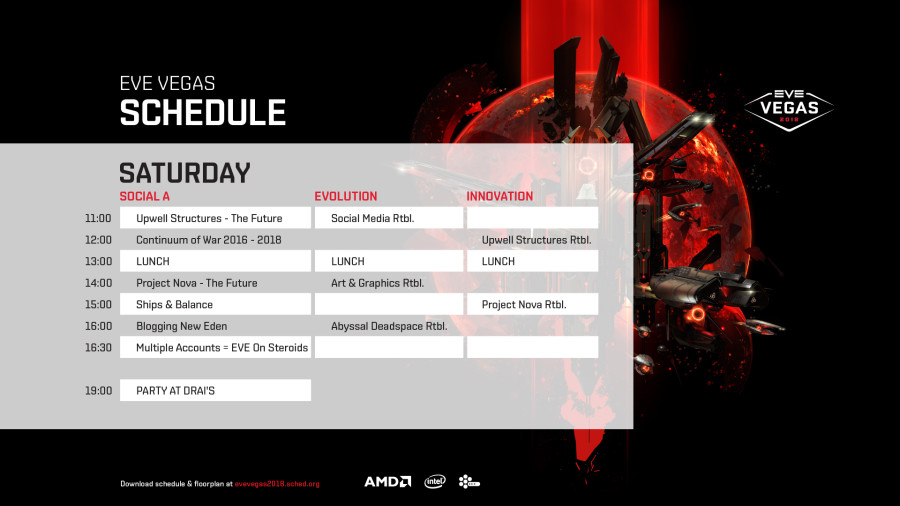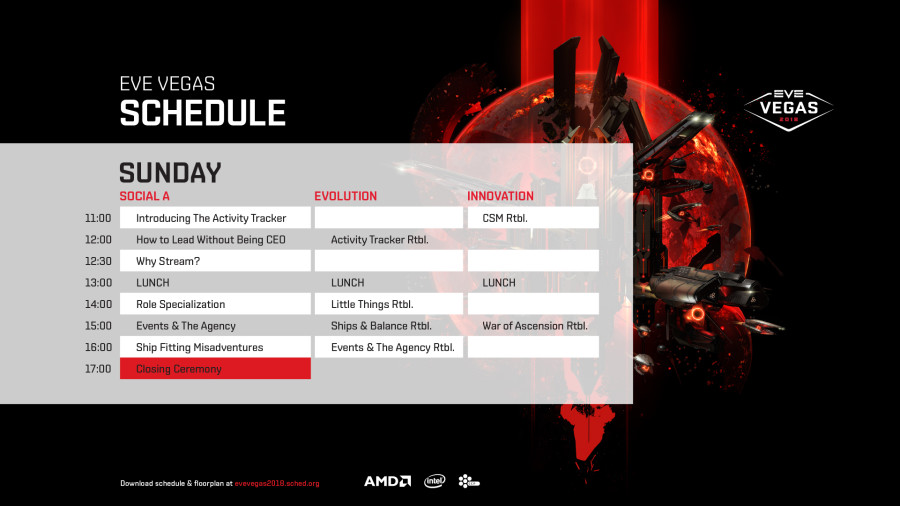 Streaming Schedule
All the major events, announcements and information from EVE Vegas 2018 will be streamed live on the CCP Twitch Channel for free, so if you can't attend, you don't miss out.
You'll be able to check out all the action, as well as a few gameplay demonstration videos and interviews with developers and attendees over the course of the full three days.
We'll also be running a whole host of giveaways and contests over the course of the three days of EVE Vegas, so be sure to tune in for your chance to win some kick ass prizes!
Helping us with the live Stream this year we have such legends as Bjorn Bee, Manic Velocity and Chocolate Rahn plus a whole fleet of streamers flying under the #Streamfleet banner.
They'll be streaming live from Vegas on their own channels, so there will be plenty to watch for all!
Keep your eyes on the news for more information on the streaming schedule this week and be sure to follow us on our various social media platforms for updates, contests and more!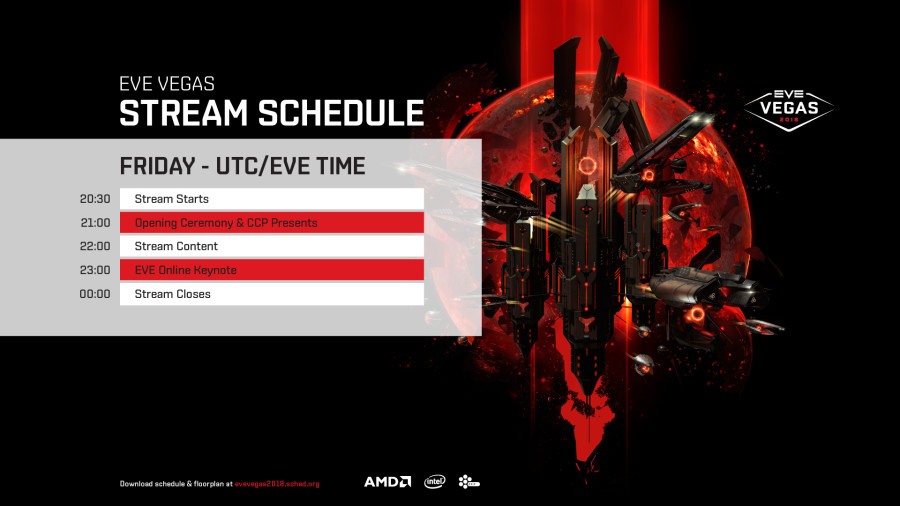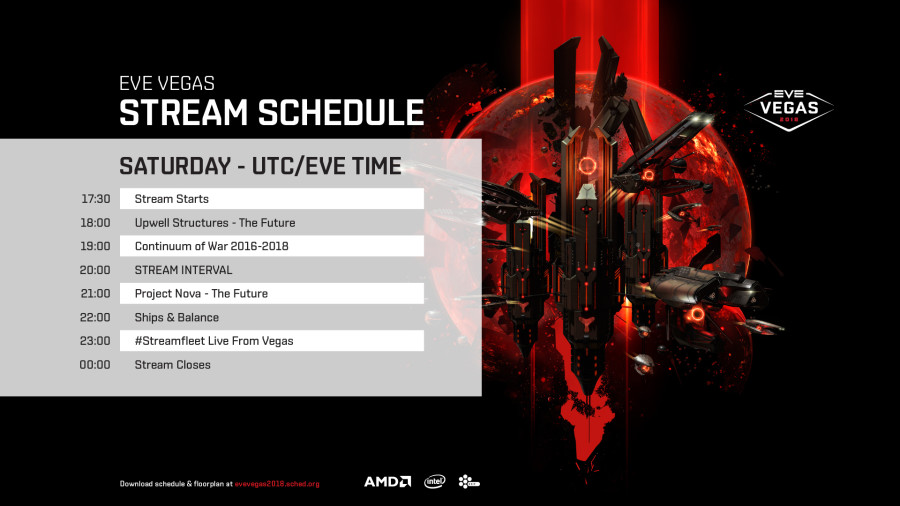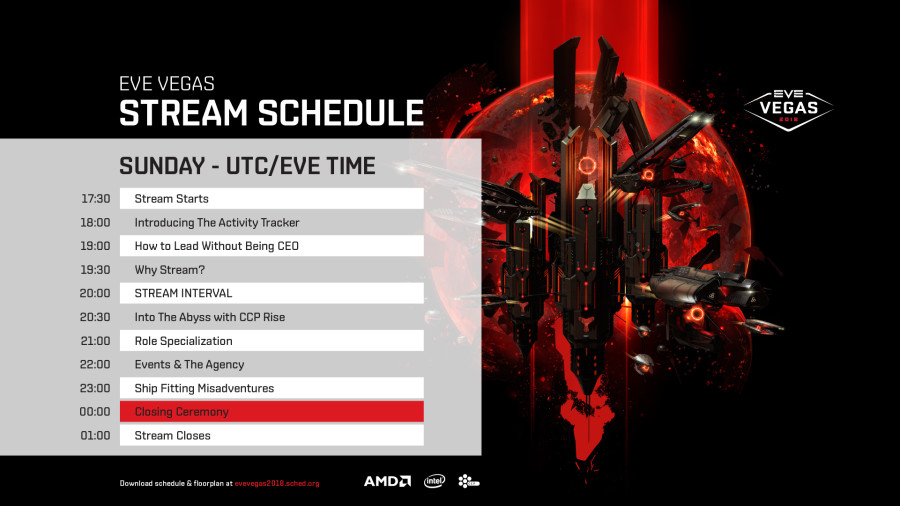 Friday Special Event – Top Golf with the Devs
21:00 - Top Golf Las Vegas
This year, we'll be running a different take on our Friday night event to get the competitive juices flowing.
EVE Vegas attendees and the CCP development team will take over a whole floor of Top Golf Las Vegas, with 33 golf bays open for two hours.
And of course, what goes well with golfing competition? An open bar for those two hours with all draft, canned and bottled beers on sale, selected wine, New Amsterdam, Sauza, Bacardi and non-alcoholic beverages included. What could possibly go wrong?
This event will kick off at 21:00 and end at 23:15 at Top Golf Las Vegas, and tickets are now on sale for $89, which includes the open bar, and golf coaching too!
To get the competitive juices flowing even more, we'll also be offering random PLEX, SKIN and Pirate Corvette prizes during the night for those who perform the best, and of course, the worst!
Come join us at Top Golf Las Vegas for the chance to watch the dev team show you how terrible they are at golf and win amazing prizes!
Tickets are on sale for this additional event now, and you can grab them here - space is limited so be sure to grab them while you can!


The EVE Vegas 2018 Party – Drai's Nightclub
19:00 – Drai's Beach Club & Nightclub
Following last year's amazing night at Drai's, we'll once again be returning there for EVE Vegas 2018.
The venue was unanimously loved by those who responded to the EVE Vegas 2017 survey, so it makes sense to party on the rooftop once again!
The party starts at 19:00 and features 3-hours open bar service, through until the place opens to the public at 22:00.
Attendees should be aware that this year, there will be a dress code for the whole evening. "Business casual" dress code will be in effect for the whole evening, so this means no hoodies, flip flops, shorts, t-shirts, face paint or face masks are permitted.
It's super important to remember this so that there's no issues with being admitted to the venue!

The EVE Vegas Store
The EVE Vegas Store will once again return this year, with more new apparel, accessories and spaceship related paraphernalia for sale over the course of all three days of EVE Vegas 2018.
In addition to this, we'll also have the player created designs on sale from the poster propaganda contest that we held in July and August!

Charity Ventures
As a part of EVE Vegas, each year we host several charity initiatives to raise funds for a worthy cause.
This year, we'll once again be looking to donate proceeds to AbleGamers that are raised during EVE Vegas 2018.
Raffle
As always, raffle tickets will be available during the whole event, and we'll be raffling two main prizes this year.
• Green Raffle – High end graphics card (TBC) from our friends and sponsors at AMD • Orange Raffle – Free trip to EVE Vegas 2019 – Flights, accommodation for 5 nights, event pass and airport transfers included.
This year, tickets will be available from the EVE Store throughout the whole event in support of AbleGamers.
Silent Auction
In addition to this, our fabulous volunteer team will be hosting a silent auction over the course of EVE Vegas that aims to raise cash for AbleGamers too.
Lots will include framed expansion key art, player-built and donated 3D printed ship models, a signed Limited Edition of Frigates of EVE: The Cross Sections, as well as a set of ultra-rare Limited Edition Embossed EVE China Titan Art Cards with zero (00000) serial numbers.
Charity Avatar Badges
Once again, the EVE Vegas volunteers will be manning the badge printer to provide EVE Vegas attendees with badges decorated with their in-game avatars. Historically, badge printing for attendees has raised thousands of dollars for charity at both Fanfest and EVE Vegas, and we can't wait to see how things go this year!
Check out the Opening Ceremony for more information what's coming in terms of charity fundraising at EVE Vegas 2018!
The CCP Art Corner
Over the course of EVE Vegas, we'll also have a dedicated EVE art corner that pilots can drop in and be part of.
Everything from live concept art and EVE art creation demos as well as portraits and chat about all things Art of New Eden will be part of this corner, so come on down and check it out to look behind the scenes of art creation in EVE Online.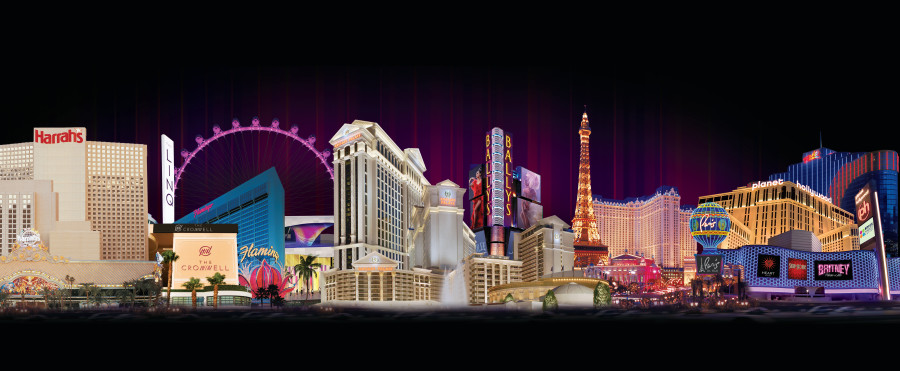 EVE Vegas 2018 is now super close and is already the biggest EVE Vegas ever.
Here in Reykjavik we're super excited to be shipping out early next week to start setting up for three days of epic spaceship shenanigans.
If you don't have your ticket already, we recommend you get them as soon as possible, as they'll be selling out in the next couple of days.
We'll see you there, or we'll see you in twitch chat!
On behalf of the EVE Vegas Team