Login Issue Workaround – Beta Launcher
After the last two daily downtimes, we've experienced several issues with the login system that have caused delays for our pilots when trying to log in.
We're currently working to resolve the issues with the login system and will be shipping a new version of the EVE launcher in early 2019 that uses a new login process and bypasses some of the systems that are currently causing issues for our pilots.
Right now, this launcher is available in beta form, and can be accessed in order to reduce the likelihood of login issues if pilots wish to do so.
Please be aware that this is of course a beta version of the EVE Launcher, with several known issues and probably a few that are presently undocumented.
If pilots choose to switch to the beta launcher, they will need to log in all accounts fresh. In addition to this, pilots should be aware that setting profiles is not currently working in the beta launcher.
To switch to the beta launcher, you can follow these instructions:
Click the "E" in the top right of the launcher (marked red).
Click the "Settings" option in the menu that appears (marked green).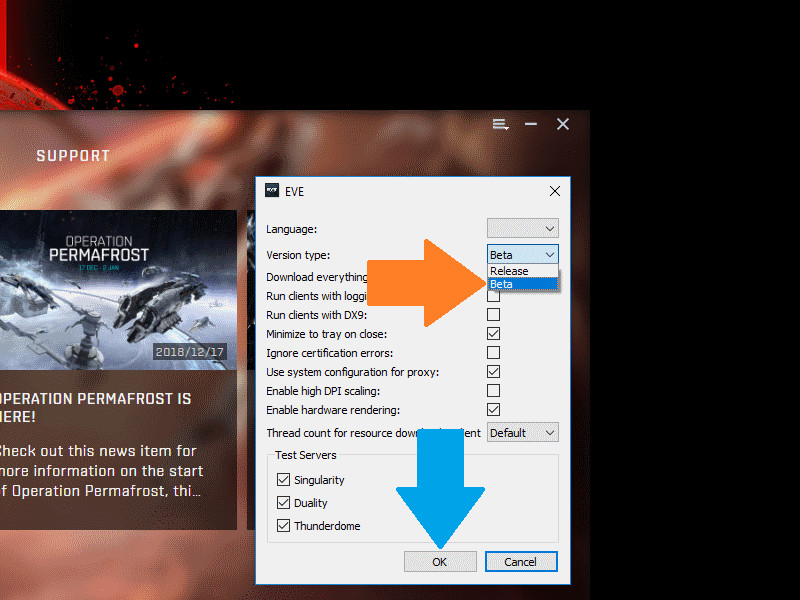 A window will appear, as shown above.
Switch to the beta option in the dropdown (marked orange).
Click OK to return to the launcher (marked blue).
This will switch you to the beta build of the launcher.
If at any point you'd like to switch back to the release version of the launcher, you can do so by following the same steps above and selecting "release" from the dropdown.
This should allow pilots to login without authentication issues if we experience any further login issues over the course of the holiday period.
Please do however remember that this is a beta version of the EVE Launcher, and if any issues are experienced we advise that pilots return to using the release version.
We apologise for the disruption these login issues have caused over the holiday period and are working to improve reliability of the login service going forward.