EVE Invasion World Tour: Round Four - EVE North
If you'd like to discuss this devblog, feel free to head on over to the feedback thread on the official forums!
Wonderful pilots of New Eden,
Summer is on its way (it's actually sunny right now in Iceland!) and once again it's time for another EVE Invasion World Tour Megablog!
This one is focused on round four of the World Tour, which kicks off on June 21st in Toronto and is hosted by our glorious friends at EVE North!
For many years now, Toronto has been host to a small but incredibly hardcore and long running gathering that celebrates all things internet spaceships, so it was natural for us to want to team up with the amazing group of pilots that dedicate themselves to putting this event together.
The show of support for this event has been incredible and with the opening ceremony just over a week away, we're looking at a crowd of more than five hundred capsuleers who'll be in attendance.
Yup, that's right – our first official event in Canada, and we're looking at more than 500 pilots coming together to celebrate all things internet spaceships. Astonishing!
If you haven't already picked up your tickets but are thinking about going, get them here as soon as you can, as we're super close to selling out!
We've got sixteen CCPers heading out to EVE North to come celebrate with the huge crowd of capsuleers who'll be in attendance, with a few presentations planned as well as some serious partying and relaxation.
As we head toward what's no doubt going to be an unbelievable first official visit to Canada for CCP, the World Tour Team are finishing up the final touches and making sure that everything's in order, ready for a crazy weekend of celebration for our pilots.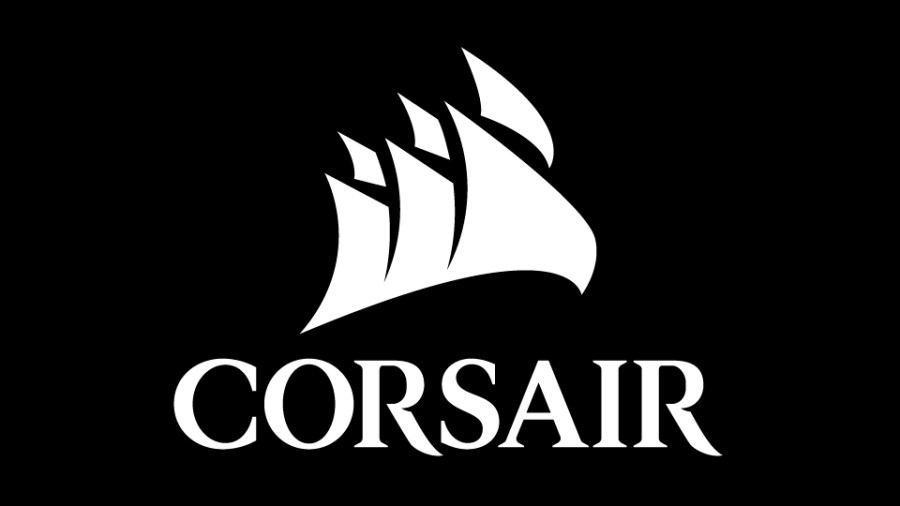 Corsair Keeps Performing!
We're super happy to have CORSAIR back with us once again as official sponsors of the EVE Invasion World Tour and the EVE Invasion Tournament Series, providing all the equipment that our contenders will be fighting it out on in the 2v2 tournament taking place at EVE North.
Keep an eye out for giveaways and competitions over the course of EVE North for your chance to win some sweet shiny iCUE RGB CORSAIR swag!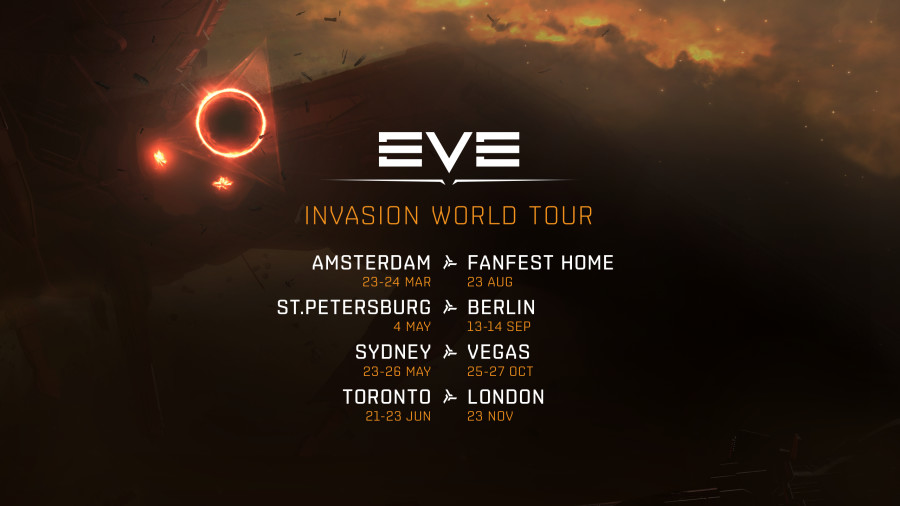 The EVE Invasion World Tour
Here we are on round four and the events just keep getting better and better. The response from pilots across the globe has been unreal.
We're about to kick off the fourth event, and so far we've got three record breakers, with Amsterdam, St. Petersburg and Toronto all shattering any previous attendance records that stood.
We've had three incredible events so far in Holland, Russia and Australia, and we're super stoked to continue the journey as we head on over to Toronto next week.
That's not all though! We'll be coming back to Iceland for a short respite over the summer before we kick off the second half of the tour starting with Fanfest Home, in that place that I can't spell or pronounce in Finland.
After that we'll be headed to Berlin, then to Vegas for an epic party, before finishing up the year in London for a massive party in the city that hosts the oldest gathering on the calendar.
Tickets for Berlin and Vegas are currently on sale, so be sure to grab them if you're looking to attend.
These events are gonna be epic, so be sure not to miss out if there's going to be one kicking off close to you!

So, Who's Coming to EVE North, Eh?
Believe it or not, CCP Dopamine is STILL standing and you guys haven't managed to break him yet, so he'll be going back into his shipping crate and we'll be sending him over to Toronto soon so that he can oversee the fourth round of the EVE Invasion Tournament Series.
There'll also be some grizzled player gathering veterans showing up for EVE North this year, as well as a few new faces who you'll need to be a little gentler with until they get the hang of things!
For EVE North, here's the full list of devs attending:
CCP Curtis
CCP Goodfella
CCP Falcon
CCP Dopamine
CCP Burger
CCP Fozzie
CCP Tara
CCP Ruffige
CCP Loki
CCP Tiger Shark
CCP binnson
CCP Amino
CCP Lebowski
CCP Alpha
CCP Tarrant
Lead GM Arcade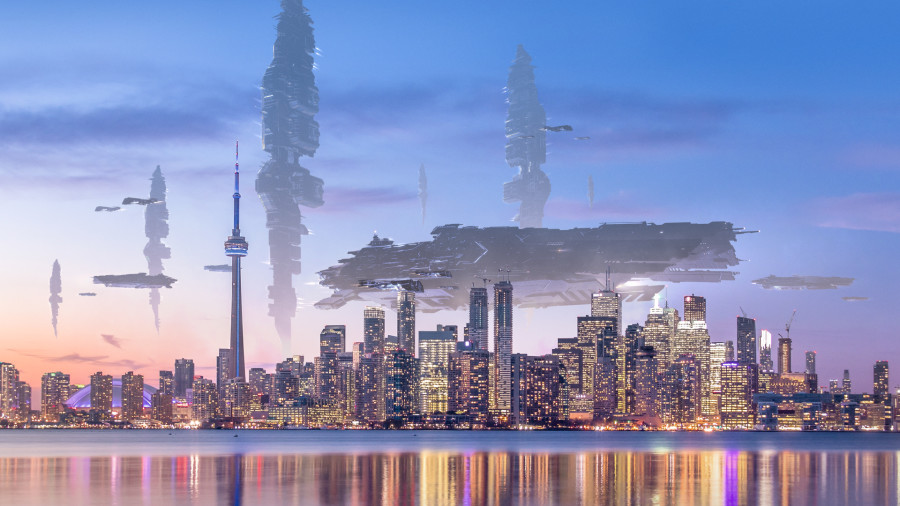 What's happening at EVE North?
In short – lots!
We've got a busy schedule for you guys that includes both developer and player content, as well as raising a few glasses here and there so that we can make sure there's plenty of celebration.
While there's two days of programming on June 22 and June 23, there's also activities on June 21 as a warmup to the event itself.
The EVE Invasion World Tour is super focused on celebrating the amazing community that's grown around New Eden and the individual flavour of each of the locations we're visiting over the course of the year, so there's going to be a lot to get up to!
The Program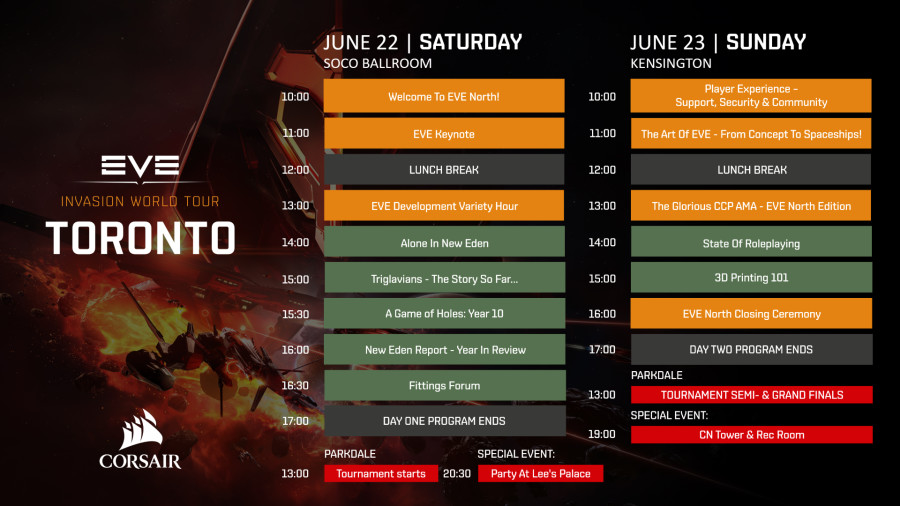 So, let's get to it and look over the schedule for EVE North so that we can see what manner of spaceship related fun is in store!
Friday, June 21:
Registration will be open from 11:00 through to 16:00 before the axe throwing adventure begins. If you're looking to pick up your EVE North access pass early, this is the time to do it!
15:00 – BATL Axe Throwing (Special Event)
I have no idea how, but someone agreed to give us sharp things that you can throw. Join us from 15:00-17:30 for an epic Axe Throwing Adventure. We've rented out an entire arena and plan to throw sharp objects! What could possibly go wrong?! The fabulous BATL Axe will give us a training session and then the round robin will begin! Will you be crowned the victor of this activity?
(Please be aware that the BATL Axe Throwing is a special event that is ticketed seperately from EVE North. If you'd like to grab a ticket for this event, check out the EVE North Eventbrite page!)
19:45 – EVE North Pub Crawl (Special Event)
Join us for a tour of some of the fine establishments on the streets of Toronto in the entertainment district. There are sure to be fun stops along the way, and near the end, shall you dare to test your singing capabilities? The crawl will start from the Delta's hotel lobby at 7:45pm and tickets include some free drinks.
(Please be aware that the Pub Crawl is a special event that is ticketed seperately from EVE North. If you'd like to grab a ticket for this event, check out the EVE North Eventbrite page!)
Saturday, June 22:
10:00 – Welcome To EVE North!
Join CCP Falcon and CCP Dopamine to kick off the celebrations at EVE North 2019, taking a look back over the world tour so far, and giving more details of what's in store.
The Keynote at EVE North takes a look at what's going on right now in New Eden, how pilots are tackling the Triglavian Invasion and of course how efforts are going as we continue to make changes and updates to EVE Online.
A pilot's gotta eat, eh?
13:00 – EVE Development Variety Hour
Join CCP Fozzie and CCP Lebowski for the EVE Development Variety Hour as we take a look at what's shipped so far this year in New Eden, and what quality of life and new player focused changes are upcoming!
14:00 – Max Singularity – Alone In New Eden
Where is everybody? Max Singularity talks about the science behind why we don't see intelligent alien beings in New Eden, and the Milky Way Galaxy too.
15:00 – Makoto Priano – Triglavians: The Story So far…
We'll cover in a ranging fashion the lore and backstory of recent events in EVE Online, diving into theories of who or what the Triglavian Collective is, what their motivations are, who and what their enemies are (including us!)
15:30 – ExookiZ – A Game Of Holes: Year 10
Annual wormhole recap of WH space since FF 2018. Covering the people that live there, notable events, and how it has changed over the last 14 months.
16:00 – New Eden Report – The Year In Review
Join one of the directors of New Eden Report for a look back over the last year of goings on in EVE, how reporting works, who's behind the news at 19:00 and what's coming in the future.
16:30 – Baltec1 – Fittings Forum
Adapting (Another bad ship fitting guide), another bad ship fitting talk covering the last six months of shenanigans.
20:30 – Party At Lee's Palace
As day one of EVE North 2019 comes to a close, it's time to kick back and relax for the customary EVE Invasion World Tour Party!
Sunday, June 23:
10:00 – CCP Falcon – Player Experience: Support, Security & Community
Join CCP Falcon for a look into the weird and wonderful world of providing support for EVE Online. From community relations to security and customer support, let's look under the hood and see what makes things tick!
11:00 – The Art Of EVE: From Concept To Spaceships!
In this presentation, we'll take a look at the art of EVE Online and the pipeline that creates it, from the first strokes of a digital pen from a concept artist, through to the finishing touches before it graces Tranquility.
Om nom nom!
13:00 – The Glorious CCP AMA: EVE North Edition
Ever wanted to find out what flavour of ice cream is our favourite? Want to know more about what we do at CCP? Check out The Glorious CCP AMA - EVE North Edition for your chance to ask all the important questions!
14:00 – State Of Roleplaying
Arsia Elkin and Debes Sparre present the state of roleplaying and provide the context required to get up to speed with the most recent happenings in New Eden. They will be covering events and plotlines from both CCP and players.
Join Araknos for an Introduction to creating stuff with 3D printers and laser cutters.
16:00 – EVE North Closing Ceremony
Join CCP Falcon and CCP Dopamine for the closing ceremony of EVE North, taking a look back over the event and looking forward to what's coming for the second half of the EVE Invasion World Tour!
19:00 – CN Tower & Rec Room! (Special Event)
After all the fun of the weekend is starting to settle we have one last stop for people to see and do before heading back to the deep dark areas of space. Join us on Sunday, June 23rd, at 7pm for CN TOWER and The Rec Room, where we plan to have people see Toronto from a whole new level and if you're lucky you'll be able to see Niagara Falls! Once you're done with the tower we plan to head to The REC Room - a giant arcade, all sorts of games and things to do, have fun with your corpies, mingle and have a drink on us!
(Please be aware that the CN Tower & Rec Room is a special event that is ticketed seperately from EVE North. If you'd like to grab a ticket for this event, check out the EVE North Eventbrite page!)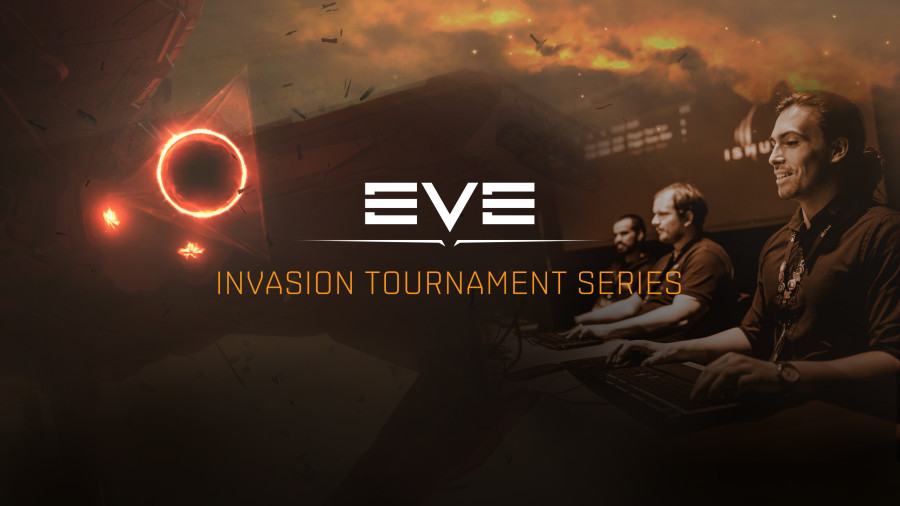 The EVE Invasion Tournament Series
We have our victors from Amsterdam, St. Petersburg and Sydney. Who'll be next?
The EVE Invasion Tournament Series will be following us to Toronto for the fourth 2v2 single elimination tournament that will crown winners for Canada. These lucky two pilots will secure a place to duke it out at Fanfest 2020 for the title of World Champions.
For full details of the Invasion Tournament Series and to find out more about signups and rules, head on over to the Invasion Tournament Series devblog, by CCP Dopamine.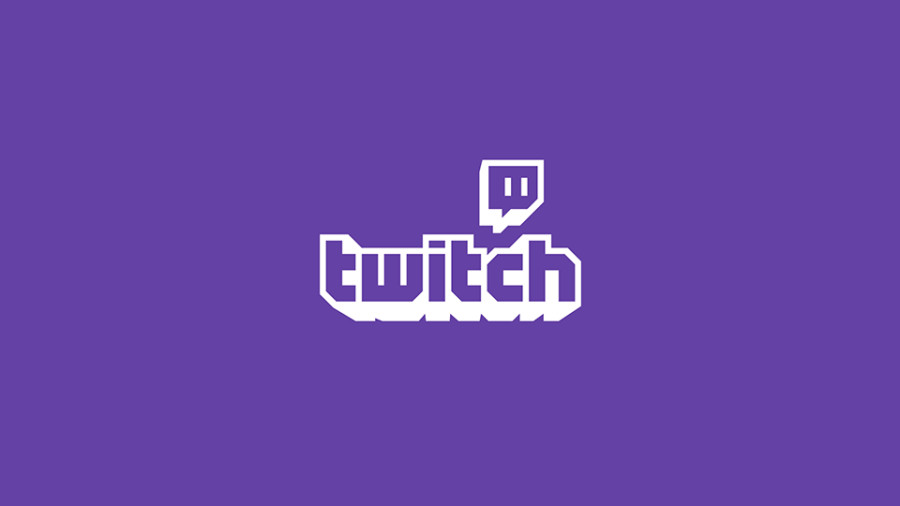 Livestreaming!
For those pilots who can't make it to EVE North, day one of the event (June 22) will be streamed live on the CCP Twitch channel in association with our friends over at Streamfleet, which includes the Opening Ceremony, EVE Keynote and all player content from day one.
Content from day two (June 23) will be recorded for later delivery on the EVE Online YouTube channel.
If you can't make it out to the event in person, be sure to catch up with the latest on twitch!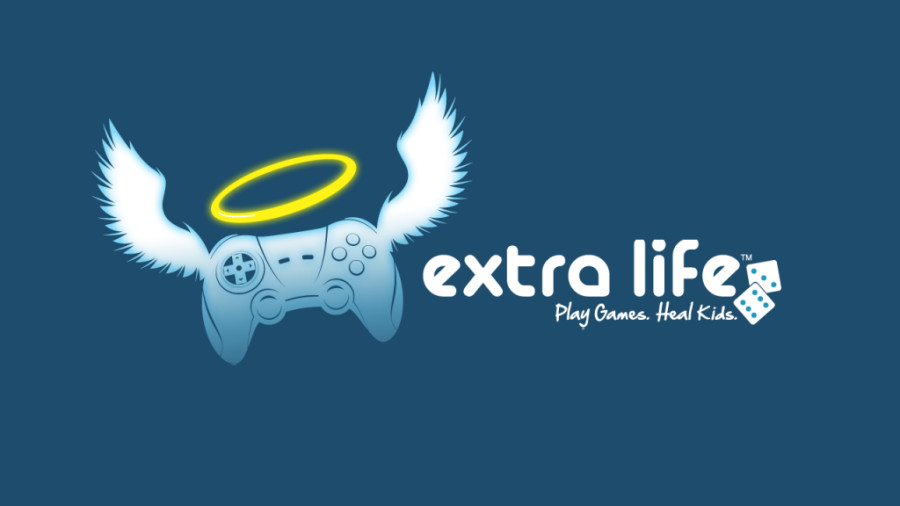 Fundraising!
As part of EVE North, we'll be working with Extra Life's SickKids campaign to raise funds.
Extra Life supports Children's Miracle Network Hospitals, with the funds raised going toward Extra Life Toronto's SickKids VS Limits campaign. Since its inception in 2008, this initiative has raised more than $50 million for sick and injured kids, in the hope of breaking new ground and delivering seamless healthcare to every child.
Our incredible volunteers at EVE North will be offering custom EVE buttons and a range of silent auction items to raise as much as possible for this incredible cause.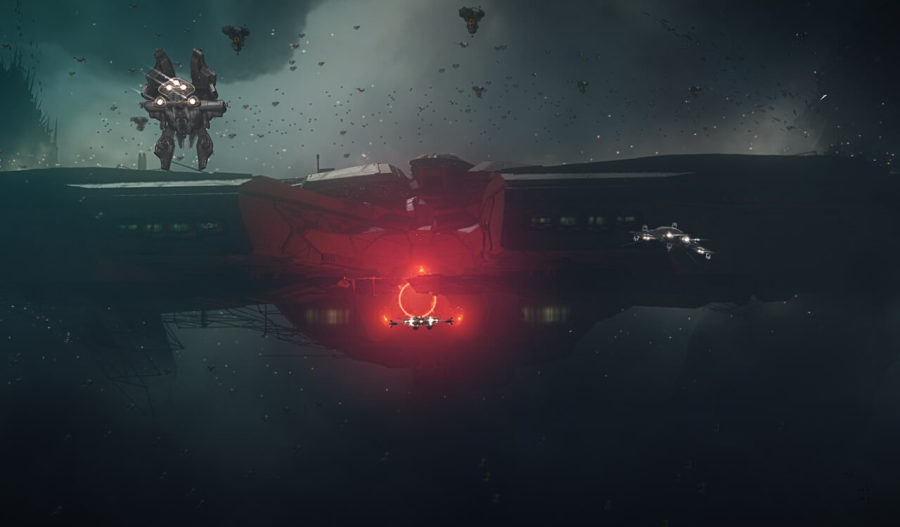 Our first official trip to Canada is going to be a crazy event, with more than five hundred pilots set to attend.
We're super stoked to welcome hundreds of pilots from North America to EVE North 2019 and have an amazing time celebrating our awesome community!
If you haven't already picked up your tickets, be sure to head on over to the ticket sales page as there's only a handful left before we're sold out.
We can't wait to see you guys when we touch down in the land of the moose and maple syrup for the largest and most anticipated event of the year so far!
See you Toronto, eh?
o7
On Behalf Of The EVE Invasion World Tour Team