PLEX for GOOD home stretch
Hello charitable capsuleers!
PLEX for GOOD for the Australian Bushfires is now in the home stretch! The campaign concludes at 23:59 UTC on Sunday, 26 January and we want to thank you all for your fantastic support so far.
Raid-a-Thon
To cap off the campaign our good friends at Streamfleet have organised a two day Raid-a-Thon which commences in just a few hours at 02:00 EVE time on Saturday, 25 January and will run up to the end of the campaign. You can see the schedule below, so tune in, enjoy the content our amazing EVE streaming community will bring to entertain you and donate to an excellent cause in PLEX for GOOD along the way! You can find out how to donate in this dev blog.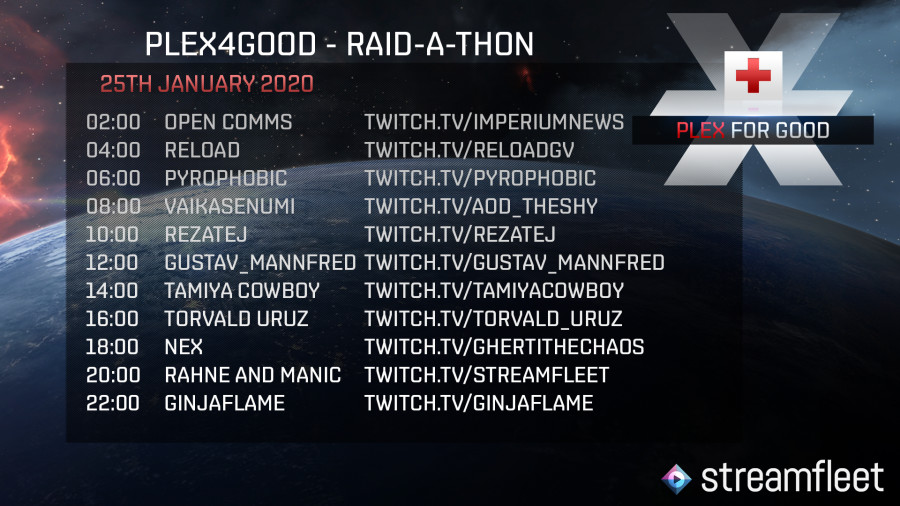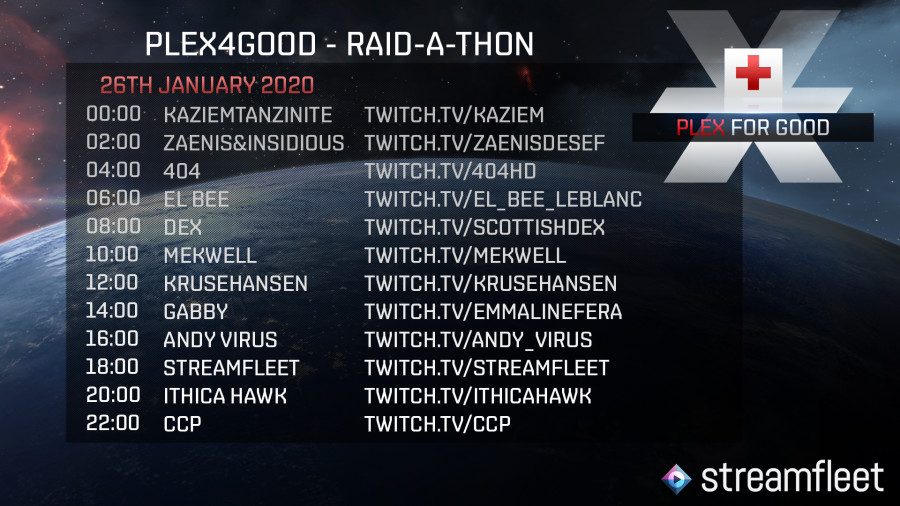 In-Game Rewards for PLEX donors
CCP is happy to confirm that we will once again have in-game rewards for people who donated to PLEX for GOOD. Just as with previous campaigns, those who donated will be receiving some special, limited-edition apparel for your avatars to wear proudly. Everyone who has donated to PLEX for GOOD will receive a pair (one women's and one men's) Reserve Frontier Safeguard (RFS) shirt:
The DED's Reserve Frontier Safeguard service, commonly known as the RFS or "Safeguarders", has its origins in a lowsec/nullsec frontier patrol operated using reservists from the member states of CONCORD. The RFS originally provided a security patrol presence in lowsec systems with planetary colonies and other orbital settlements. Since the expansion of CONCORD's mandate and permanent DED fleet capacity in YC105, the RFS has evolved into an organization focused on providing disaster relief to colonies across lowsec space.
Our brilliant art team is hard at work on them and we will deliver them to donors in the months after the campaign concludes. We think you'll really like them and thank you in advance for your patience!
Anyone who donated the minimum 100 PLEX will receive one pair of the shirts. At 500 PLEX you will receive two pairs and then an additional pair for every 500 PLEX donated after that.
In the event that you have already donated but didn't make your donations personally (i.e. you contributed to a collection on behalf of your corp, alliance or player group) there will be an opportunity to work things out when the shirts are completed so that everyone receives their rewards.
The Gold Magnate
We have to make special mention here of what is likely to be the biggest single donation of the event so far. EVE player Kelon Darklight is auctioning off his Gold Magnate, one of the rarest ships in EVE Online. Kelon earned this exotic ship when he was the team captain that won the succesion trials at Fanfest in 2016 which installed Empress Catiz Tash-Murkon as the new Amarrian ruler.
The Gold Magnate has attracted an astonishing bid of 1,000,000 PLEX - the equivalent of 160 years of EVE Online subscription. Not only that, the bidder is none other than Scott Manley, famed science and gaming Youtuber and long-time player of EVE Online.
If successful, this auction would lead to tens of thousands of dollars being added to the PLEX for GOOD campaign wallet and we at CCP hope that both Kelon Darklight and Scott Manley are able to reach an amicable conclusion to this auction! <3