The Fight Against Cheating in EVE Online
Greetings,
Vigilance against cheating in EVE Online is an ongoing process that we are fully committed to continuously improving. At CCP, we define the trifecta of cheating as:
Account Hacking
Illegal Task Automation (a.k.a. botting)
Payment Fraud
The special task force established almost a year ago to combat cheating in EVE has made tremendous and measurable progress in the war against bots, putting us on a winning trajectory in this fight. For security reasons, we cannot go into exact details on how this was achieved, but what we can share is that with the significant improvements to our investigation tools and more ideas lined up in the pipeline, we see a bright future for New Eden.
According to the quarterly player survey, botting remains among the top issues reported by pilots in New Eden. Even if all cheating methods undermine the hard work of honest players by supplying ISK from Real Money Trading (RMT), botting is undoubtedly the most visible from them all.
A key factor that contributed to the overall success was the implementation of the positive feedback loop, where everyone who reported a character that ended up getting banned received a thank you email. We do not ban players on reports alone, and each case requires a manual investigation – even with that, many reports are processed within 24 hours. Please keep the reports coming in!
The combined effect of our strategy of high-value targeting and organization takedowns reduced the impact of botting on the ecosystem by 80% when compared to the same time last year. That's both the number of suspected botters and the wealth generated by botters. While botting still exists, we have zero tolerance for bots and will not rest until we eradicate them.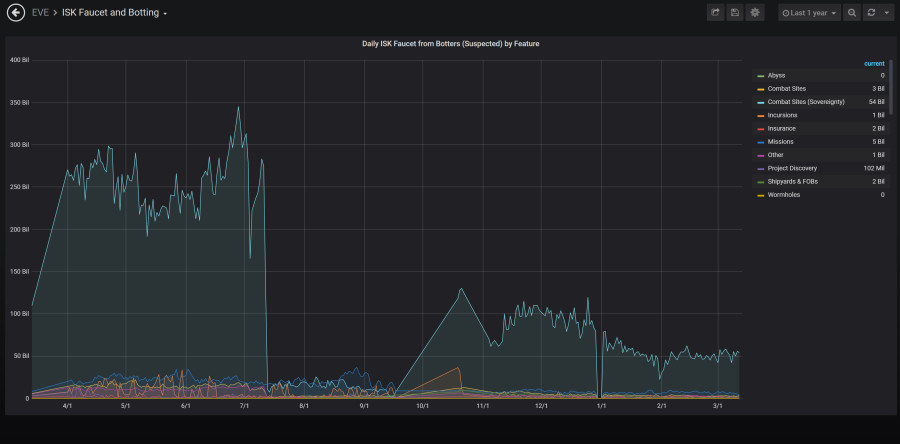 Account safety is something we also care deeply about, and while the main topic of this blog is cheating, we hope to have more exciting news to share on that later. Until then, please enable 2-Factor Authenticator (2FA) on your accounts to keep your assets safe.
Finally, buying ISK from third-party websites or RMT organizations is not acceptable. These organizations partake in all types of cheating and by buying ISK that way you are actively enabling them to continue their operation. Help us keep New Eden in order and stop purchasing ISK from RMTers!
If you would like to discuss this devblog, please head over to the EVE Online forums.