The Goo must flow: Everything about Refineries and Moon mining
Greetings industrious capsuleers!
As some of you will have seen, the new Refineries and Moon Mining are available for testing on our test server Singularity and we are actively gathering your feedback in the forums. In this devblog, we will be giving you a bit more information about the structures themselves, the new rigs that will influence their performance and also introduce the Scheduler, which you use to set and initiate Moon Mining extractions. All of these additions to New Eden will be released in the Lifeblood Expansion on October 24th 2017.
Upwell Consortium delivers the third line of Structures: Refineries
Just as the Engineering Complexes brought diversity to the specialization of structures with their bonuses to Manufacturing and Science, and Citadels continue to be indomitable strongholds throughout New Eden with their combat focused hulls, the new Refineries stake their claim as the exclusive locations for both Moon Mining and Reactions activity, as well as the favored facilities for Reprocessing with their bonuses in these functions.
As with both the Citadels and the Engineering Complexes, Upwell has seen to keep some of the existing systems. As such, the key similarities between all Upwell Structures are:
All Upwell Structures use the same vulnerability, reinforcement and damage cap system for defense. The damage caps for each size of structure remain the same whether that structure is a Citadel or Engineering Complex or Refinery
All Upwell Structures use the same asset safety system for recovering contents when destroyed or unanchored
All Upwell Structures use the same access list system for managing access to the structure and its services
All Upwell Structures are dockable and include tethering for nearby friendly ships. 
All core functions like refitting, repair, insurance, contracts and direct trade are available in all lines of structures.
Some of the major differences between the classes of structures are:
Each type of Upwell Structure hull is bonused to a different strength:
Citadels gain bonuses to combat rig strength and Citadel service module fuel use
Engineering Complexes gain bonuses to manufacturing/science jobs and engineering service module fuel use
Refineries gain bonuses to reprocessing and are the only structures that can be used for Moon Mining or to run Reactions
Both the Medium Refinery (Athanor) and the Large Refinery (Tatara) will require 20 hours of vulnerability weekly 
Medium Refineries allow docking of subcapital and Freighter vessels, the same as their Citadel  and Engineering Complex counterparts
Large Refineries share the same docking restrictions as Medium structures but will also allow the docking of Rorquals. No other capital ships can be docked at these structures.
Deployment
With the release of the Upwell Refineries, Reactions (of all types) and Moon Mining will become exclusive to these new structures and they will no longer be performed in Player-Owned Starbases (POSes). Details about the changes to Reactions and the Service Modules that will perform these functions can be found in this devblog.
Moon Mining will be exclusive to Refineries when they are deployed in the Moon Mining Location around a viable moon. Full details about this process were listed in this devblog, but to summarize, here are the key points:
Refineries can be deployed in all regions of New Eden, including High Sec and Wormhole space. All Upwell Structures are built and deployed in the same way, with the same deployment location restrictions (not allowed in certain newbie or trade hub systems, must be placed at least 1000 km from other Upwell structures). However, the Moon Mining Drill Service Module cannot be fitted in a Refinery that is not in a valid Moon Mining location.
Every viable moon (every moon in Low Sec and Null Sec space with a few exceptions for the very large moons) now has a specific Moon Mining location. These locations are a new warpable option in the right-click and radial menus for moons: "Warp to moon mining location"
Only one Refinery can be deployed within 250km of the Moon Mining Location and extract moon ores from that moon 
When deploying a Refinery, the UI will inform you if you are in a valid location, if you are in a valid location but cannot moon mine, or if you are in an invalid location:

When the designs for Refineries were first being fleshed out, we knew that tying a single structure to a single moon would amplify some of the combat issues that face other Upwell Structures. With valuable input from the CSM and the feedback they have sourced from the Community, we will be using the introduction of these structures to make a change to the vulnerability of ALL Upwell Structures:
When an Upwell Structure is first deployed, it will enter an initial 15-minute vulnerable state (with the same repair timer mechanics and damage caps) before entering the 24 hour Anchoring state. 
Once anchored, the vulnerability of the structure will match the Vulnerability windows set by its owners.
This will mean that keeping control of the area in which you are planning to deploy your structure is paramount.
Further changes to the Vulnerability and Combat systems of all Upwell Structures are now underway and some early details about these upcoming changes can be found in the EVE Vegas Keynote.
As with all Upwell Structures, the new Refineries will be able to fit all the standard Standup Service Modules, allowing their occupants access to services ranging from Clone Bays to Manufacturing and the other basic services this line includes. 
Athanor (Medium)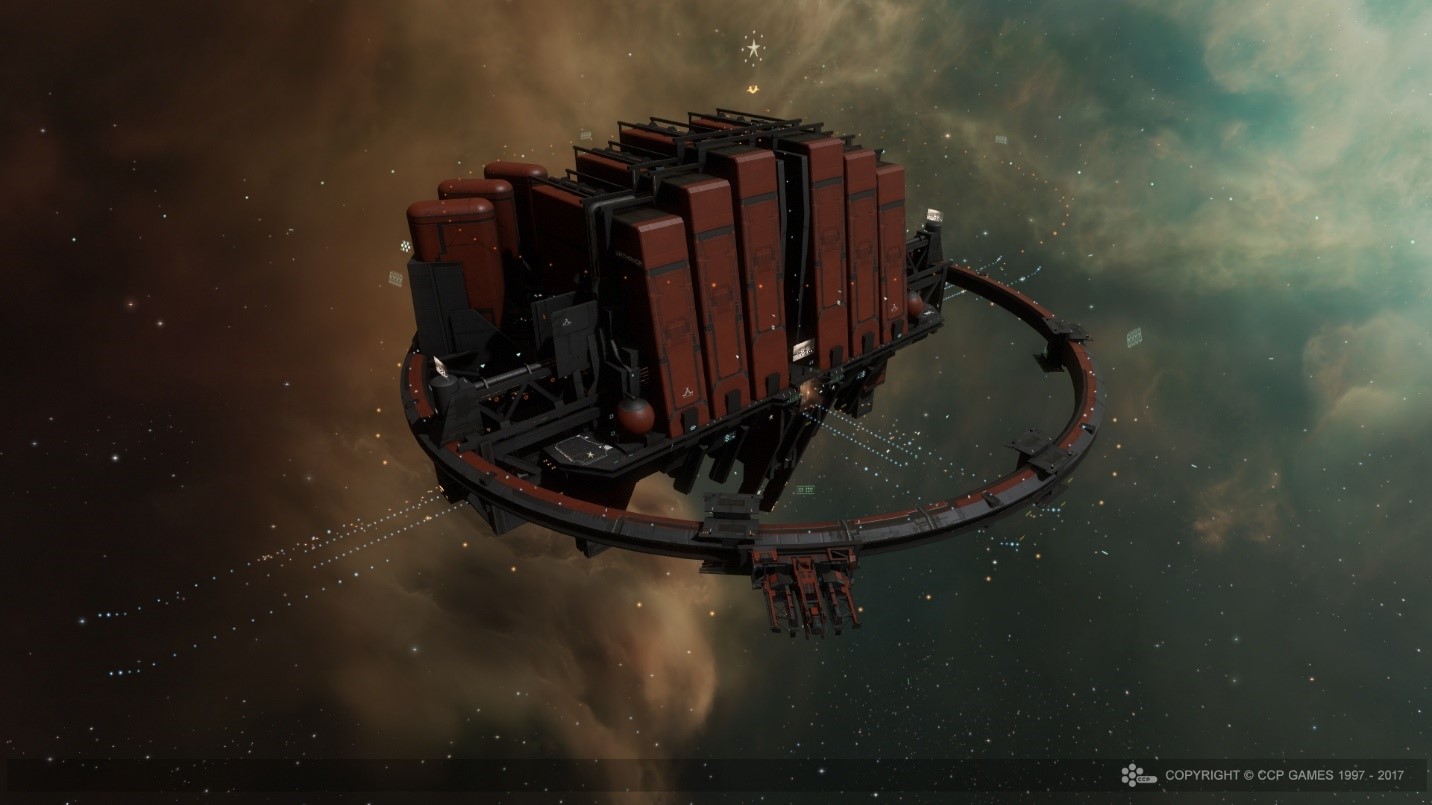 Role Bonus:
2% bonus to refining yield for all variants of Ore and Ice
20% reduction in Reprocessing and Reaction Service Module fuel consumption
Slot Layout: 3H, 3M, 1L, 3 Service, 1 Launcher
Fittings: 1,200,000 PWG, 15,000 CPU
Defense (shields / armor / hull): 4,800,000 / 4,800,000 / 4,800,000
Resistances (EM/Therm/Kin/Exp): 20 / 20 / 20 / 20
DPS Cap: 5000
Fighter Slots: 0 Tubes
Weekly vulnerability hours: 20
Capacitor (amount / recharge / cap per second): 100,000, 3600s, 27.8
Max Locked Targets: 8
Docking allowed for: all subcapital ships, freighters
The required materials for building an Athanor are:
| | |
| --- | --- |
| Structure Construction Parts | 1 |
| Structure Hangar Array | 1 |
| Structure Storage Bay | 1 |
| Structure Repair Facility | 1 |
| Structure Reprocessing Plant | 3 |
| Structure Docking Bay | 1 |
| Structure Electromagnetic Sensor | 1 |
| Structure Acceleration Coils | 1 |