Citadels, sieges and you v2
Welcome back to another blog on structures by Team Game of Drones. You may be surprised that we are going to discuss structure protection and attack yet again, a point already tackled in Citadels, Sieges and You. This is mostly due to our quite radical change in direction regarding what we would like to achieve regarding structure assault mechanics – a shift that happened after reading feedback from various sources and extensively debating that point with the CSM.
Entosis links are not going to work on new structures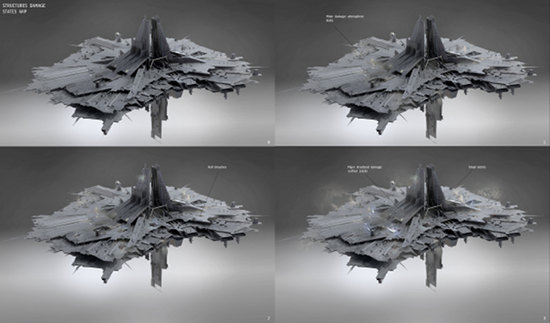 Long story short, we have had long meetings about the structure attack system, and came to the conclusion that, while Entosis Links do indeed achieve our design goals for the Citadels, they are not actually delivering an experience we are satisfied to provide.
It's not fun being shot by massive structure weapons while being unable to retaliate in kind, it gives players the feeling to be helpless while they watch a timer go down
There is gameplay involved in applying damage that Entosis Links do not preserve, like range, speed, falloff or positioning
It devalues capital ships as a whole, especially Dreadnoughts, which were specifically introduced to assault and destroy static structures
Last but not least, there is a visceral connection in shooting a structure down to destroy it. Having guns blazing while watching the target hit points go down is a very strong visual and adrenaline factor that Entosis Links remove out of the equation.
So, there are several points that come out of this:
We are going to make sure we have mechanics in place to prevent problems with the existing Starbases – specifically that HP damage always benefits whoever brings the most ships in the field, since damage always scales by number. That is why incoming damage will be mitigated past a certain point (more on this below).
This will not affect the current Aegis Sovereignty system. We have plans to merge those systems when we move Sovereignty into the new structures and we will account for the specific needs of the Aegis Sovereignty system when that happens
We are aware Capital Ship are in the pipelines to be rebalanced, and bringing HP damage back into structures is not a coincidence. We want both structures and capitals to have a strong tie with each other, a binding theme delivers a unified and enriching experience. As such, the Capital Ship rebalance will definitely account for this HP damage system for structures
Wormhole space presents unique gameplay we want to preserve whenever possible. As such, variations will be made in the attack system for this specific area when we feel they are justified
All of the numbers, timers in this blog are still up to discussion and debate. If anything, we do believe we have proven so far that we were willing to listen to feedback and change our designs accordingly, so please make sure to remember those are not final numbers yet
Meet the new structure attack process
With that in mind let's have a look on how the new attack process is going to look like.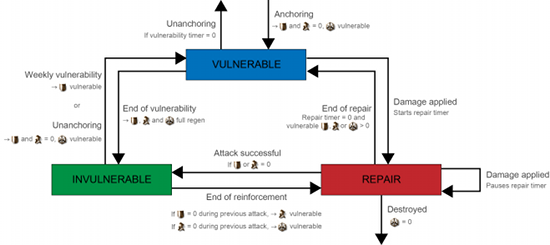 We wanted to simplify it as much as possible next to the previous version. You will notice we merged the online and reinforced states altogether, which technically work the same way (the structure cannot be shot) – we also introduced the concept of a repair timer. More on that later.
We also removed the concept of three vulnerability and reinforced states. Since structures can now be damaged through regular means, we are simply going to represent that by using structure shields, armor and hull, which is a much more visual and familiar way to represent structure attack phases.
Vulnerable state
A structure enters this state during the weekly vulnerability window or after it has been anchored / unanchored. Damage can be applied to the structure in this state. When any kind of damage is received, the structure enters a repair state.
The weekly vulnerability window design hasn't changed much from the last blog. This still represents a specific amount of hours that have to be assigned on a weekly basis, during which the structure will be vulnerable. Hours are assigned on a calendar and players with proper roles have control when they should happen. What has changed however, is that the vulnerability window will not vary based on Sovereignty indexes anymore, as this we realized it would cause management nightmares when trying to apply vulnerability hours while Sovereignty indexes are changing. Sovereignty indexes will instead modify repair timers (see below).
| | | | | | |
| --- | --- | --- | --- | --- | --- |
| Citadel weekly vulnerability window | M | | L | XL | |
| All areas of space | 3 hours | | 6 hours | 21 hours | |