The EVE Online "Recruit a Friend" program - Everyone wins!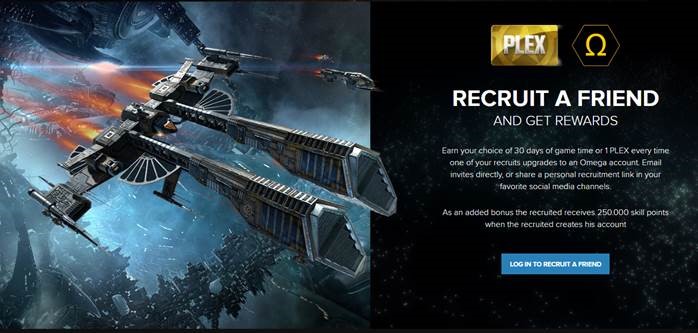 EVE Online is a fantastic game, especially if you play together with (or against) friends! With EVE Online 's "Recruit a Friend" you can benefit from bringing friends to EVE Online. As reward for successful recruiting, you can receive either 30 days of game time or 1 PLEX (check the details below). The recruited person will receive 250.000 skillpoints in any case!
Both, Alpha and Omega accounts can recruit. 
Recruiting is easy:
You, as a recruiter, log into the Recruit a Friend website with your EVE Online credentials
Send a personalized email to your friend or post your unique recruitment link
That's it for you! 
Whenever someone creates a new account using your recruitment link, the following will happen:
The newly created account will receive 250.000 skillpoints. These skillpoints can be dragged from the character selection screen to a character on this account.
If the recruited player upgrades to an Omega account using a valid payment method, then you, the recruiter, will receive a reward

If you, as the recruiter, are on an Alpha account, you can select 30 Omega days as reward
If you, as the recruiter, are on an Omega account, you can choose between 30 Omega days or 1 PLEX as reward
The reward will be based on your account status when claiming the reward
Recruiting is profitable for both, the recruiter and the recruited person! We also recommend reaching out to new player friendly corporations such as EVE University or one of the many other recruiting corporations that can help you out.
Check out the Recruit a Friend website, and good luck with your recruitment drives!