Picture Contest: A Call To Art - Part Deux!
Do you remember the Art Competition we held back in 2015? Well, we want to try something similar again!
The CCP Player Experience Team (Consisting of Customer Support, Team Security and Internal Affairs) will be hosting a series of events between August 20-26, dubbed "GM Week" (more on that later) and we wanted to use the oportunity to display some of the art you guys keep sending us.
Just look at this beauty from the last competition(No, not GM Spider... the Picture on the damn wall!)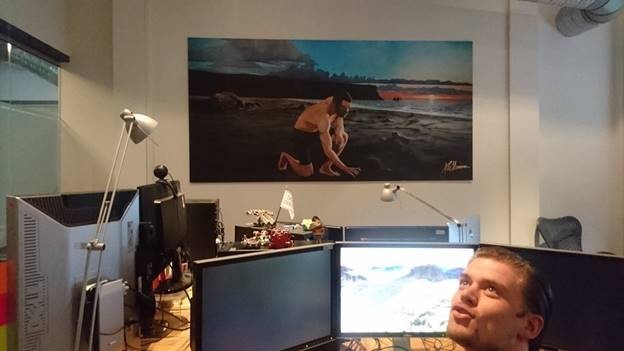 So majestic!
We are keeping the time window short this time around as we're not asking for the sort of masterpieces we saw in the previous competition and are accepting all submissions that are EVE Universe related, with the notable exception of propoganda posters as they were covered pretty well here.
As before, the art submissions will be reviewed by a panel of "experts" in the PX team, along with assistance from the actual experts in the Art department.
Full Image specifications:
The image will be printed on the proper size canvas but should not exceed 135cm x 270cm.
File format should be uncompressed .PDF, .PNG or .JPEG format.
Should your file be too large to e-mail then we will arrange file transfer, alternatively you may host it externally yourself.
Submission process:
Please send a scaled preview of your work (less than 5mb) to acalltoart@ccpgames.com and where possible include a download link to the full version.
Rewards:
First place: 6000 PLEX + Signed Limited Edition of "The Art of New Eden".
Second place: 3000 PLEX + Signed Limited Edition of "The Art of New Eden".
Third place: 1500 PLEX + Signed Limited Edition of "The Art of New Eden".
Terms & Conditions:
Please be sure to read our standard EVE Online contests policy before submitting your entries.
We are only able to accept online entries, hard copies cannot be accepted or returned.
The closing date for submissions is Midnight UTC on Thursday, August 23th 2018.
Winners will be announced on Sunday, August 26th 2018.
That's all for now, and in the words of former Lead GM Grave: Happy... arting?