Hello again dear spacebros and welcome back to another structure blog by Team Game of Drones. Time has passed since we last discussed upcoming new structures (Fanfest 2015 and shortly thereafter), which we have spent reading feedback and iterating on concepts. More importantly we have been busy coming up with more detailed answers on the following two questions, which are the most heated topics you wish to see explained regarding this specific feature:
How exactly am I going to attack, or protect, one of those new structures?
What happens to my stuff if one of those structures has been attacked?
We now have a refined version of how those systems are going to work and are ready to share them with you. However, to avoid heart attacks, eye gouging or bleach drinking we are going to focus this blog on answering point 1, while another blog is to follow on point 2. For all the math wizards, min-maxers extraordinaire, and OCD freaks out there, numbers will be provided, but please remember those aren't final and will most likely change based on player feedback, testing and various iterations.
Missed a structure blog? Have a look at the following:
Capture process
As mentioned in Shake my Citadel, new structures are going to use mechanics similar to the revamped Sovereignty system, with a twist to fit our own needs. This naturally implies vulnerable and reinforced states.
All Citadels, no matter their size, will have 3 vulnerability windows. They are supposed to be the safest structures around, and thus provide the longest defense buffer available to owners. Please note this will not be true of all structures. Observatory arrays may have only 2 for example, since they are supposed to be more fragile.
Also, there will be no Command Node spawning under this system – CSM feedback showed it was quite counter-intuitive to fit big guns to your massive structure only to have the fight take place somewhere else.
With the chart below, we are going to go into details how each phase is going to work.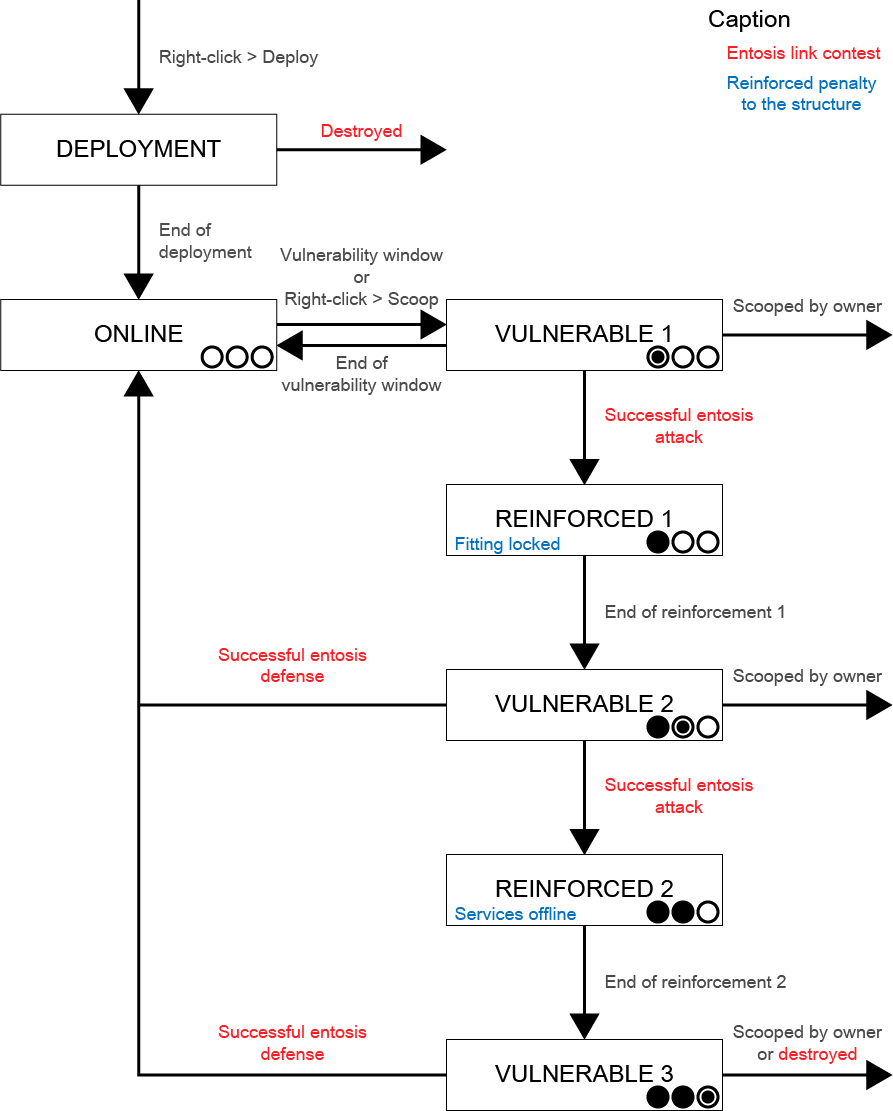 Deployment
All structures will have a deployment time, which will vary depending on the structure size and type. The larger or more impact on the surrounding the structure has, the more time is going to be needed in an effort to give various parties more time to react.
A new structure that is being deployed is totally vulnerable to entosis links, and any third party can come to disrupt it (for high-security space however, a war declaration is required not to suffer the wrath of CONCORD). The exact details on the attack process are explained under the "entosis link contest" below.
Current numbers to deploy Citadels, our first batch of structures, are:
M

L

XL

Citadel deployment timer

1 hour

2 hours

4 hours
Please note those do not require downtime to proceed, unlike existing outposts. It is also important to remember that scooping a structure will cause an immediate and full vulnerability window to begin. If a vulnerability window was already underway, it will refresh the duration to its maximum value. A structure going through a reinforcement timer cannot be scooped until it comes out of it.
Vulnerable 1
A structure that is successfully deployed then enters normal operation mode. Players may use its services, dock, man the defenses or do whatever else is allowed by them. The structure also becomes vulnerable to attack during specific times.
In more details that means:
Structures may only be attacked by entosis links during their vulnerability windows.
The duration of a vulnerable 1 window is a mandatory timer expressed on a weekly basis, whose length varies depending on the structure size, location and role.
This phase happens periodically while the structure is working normally and has not be set into reinforcement yet.
Players owning the structures set the vulnerability time themselves (if they have enough roles) – this can be done in advance, before deploying the structure.
Attacking a structure in high-security space without a war declaration is a bad idea and thus gives you a criminal flag. It is like trying to add pineapples to a pizza (which is one of the many barbaric traditions a Frenchman must endure in Iceland).
How players assign weekly vulnerability hours is entirely up to them, as long as they fill the quota. You could assign all hours consecutively if you dispose of enough manpower, or you could spread them out over multiple days. Hours have to be spent whole however, no weird split minute shenanigan is allowed.
Example 1:
Soft Croissant Incorporated™ is a small 5 man corporation having a Citadel L structure in high security space with a 6 hours of weekly vulnerability window. Not being a hardcore gamer, the structure owner decides to set the vulnerability window 2 hours during Tuesday evening and 4 hours on Saturday.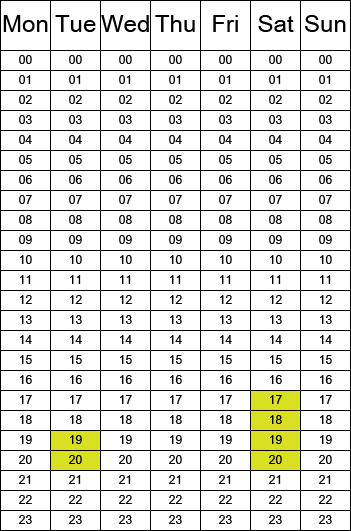 Example 2:
The Alluring Baguette Syndicate™ is a large alliance that just deployed a Citadel XL structure in null security space with a 21 hours of weekly vulnerability window (they have full occupancy and indexes). Confident of its manpower and general resources, the structure owner sets the vulnerability window to cover 3 hours each day of the week.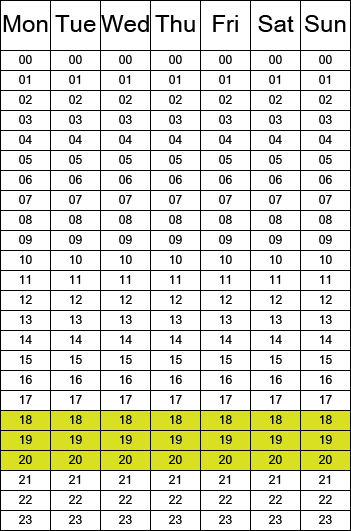 Current numbers for the weekly vulnerability window are set as follows and varies based on location or occupancy. Those numbers will most likely change with time.
| | | | | | |
| --- | --- | --- | --- | --- | --- |
| | M | | L | XL | |
| High-sec, low-sec, Null-sec with full occupancy | 3 hours | | 6 hours | 21 hours | |
| Wormhole space | 6 hours | | 12 hours | 42 hours | |
| Null-sec without occupancy | 12 hours | | 24 hours | 84 hours | |