EON: Changes in Store & Other Digital Adventures
Guest blog by Zapatero from EON, the Official EVE Online Magazine. Enjoy.
There have been a few rumblings out there in the social ether, with concerned minds suggesting that all was not well inside Outpost EON. It's true that we've been rather slow in getting the new (26th) issue sent out, but that's not because production is about to cease on the longest-running internet spaceship magazine. Far from it. The truth is that there have been some quite significant changes going on, about which we've had to remain quiet... until now.
Let me take you back to Thanksgiving 2011 and the announcement of an EVE Store sale offering 50%-off all EON stuff. It was a sale that was uncommonly generous, but it was also one that for various reasons did not go quite as intended. The layers of code that have been the foundations of the EVE Store have served it well over many years, but things like flash sales and bulk codes have never worked out faultlessly even at the best of times. Given all that had been going on in the weeks and months previous to the onset of winter, Thanksgiving 2011 was anything but the best of times, as CCP, undergoing extensive reorganization, wasn't able to react to technical issues as quickly as before.
It was suggested then that perhaps the best way to manage stock and create sales within the new CCP reorg paradigm was to create our own retail outlet, one that could be built purely around EON and our particular requirements. So that's what we went and did.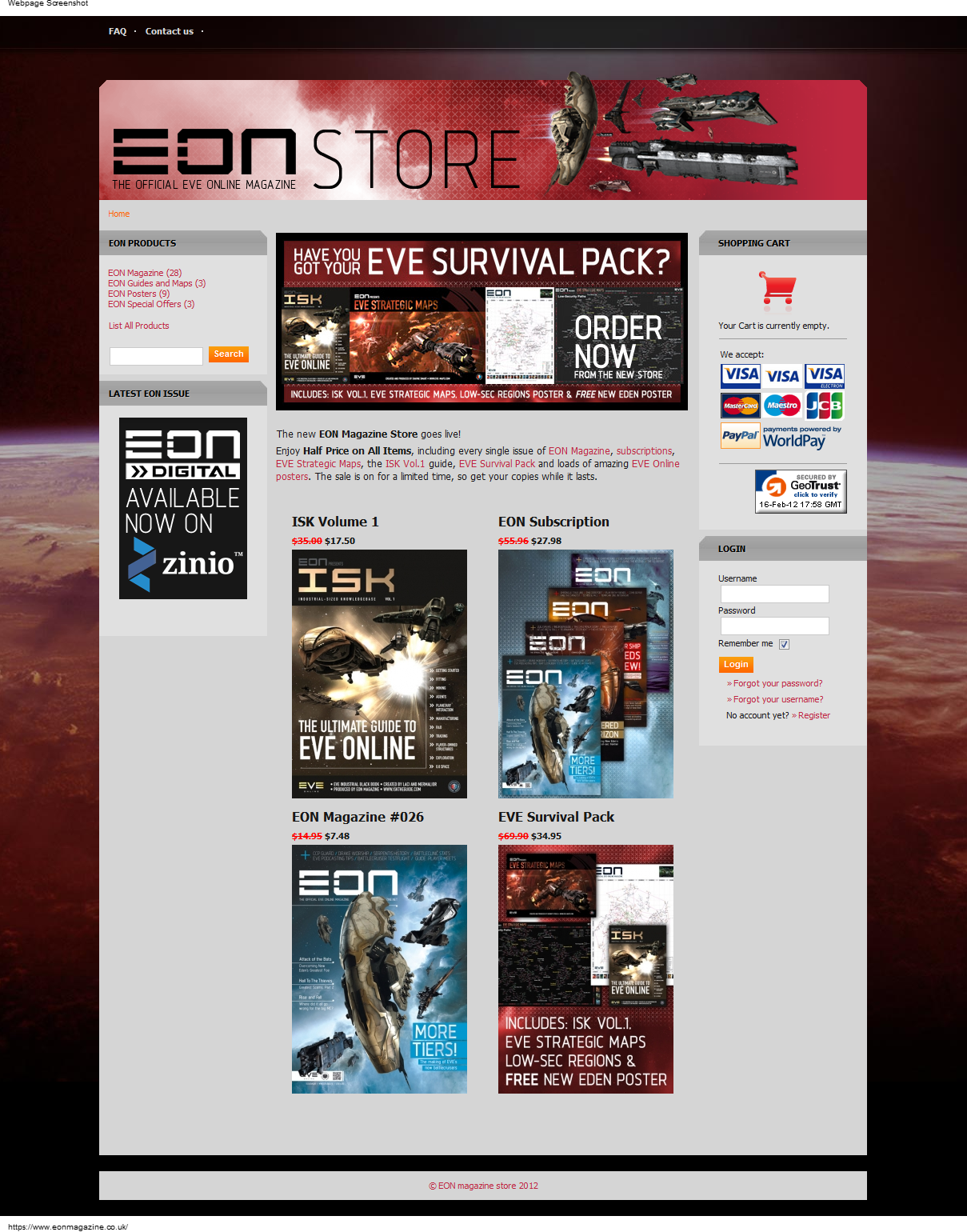 Though it looks different, the just-opened store offers exactly the same EON items as were available in the EVE Store. The big difference is that because we can't transfer accounts over to the new system, buyers and new subscribers will have to register their details at the new site. This is because, quite rightly, the terms and conditions you agreed to as an EVE Store customer preclude the wholesale transfer of your customer information, and since the new EON Store is owned and maintained by us at MMM Publishing rather than CCP Games, obviously we all have to abide by the rules. Rest assured however that if you have a current active subscription it will be honoured. When it comes to re-subscribing, however, you will have to register at the EON Store.
The good news is that with the EON Store up and running we will be able to offer more deals and special offers at short notice (you might want to join our Facebook page or follow our Twitter feed @EonMagazine in case a 50%-off deal kicks off. All the usual credit cards and PayPal are accepted through our trusted payment gateway (WorldPay) and you can select between US bucks, UK quids or EU 'roes. Oh, and we have re-evaluated postal costs to be a little fairer to those ordering from the economic black hole that is the UK and Europe, which is where Outpost Eon is located.
Another significant development with regard to EON is that we have - at long, long last - gone ahead with digital editions of the magazine. I blogged and commented a couple of times last year about our frustrations in trying to force integration of digital magazine sales within the EVE Store, but as spring became summer and Incursion became Incarna, it became increasingly obvious that CCP had more important things to worry about. To be fair to CCP, the issues were more complex than I realized at the time and went far beyond the technical—so our independence from the EVE Store actually has turned out to be a good thing, especially with how fluid things are with regard to digital reading trends.
Right now we only have the current issue available in digital form, but the rest of the magazines will follow over the coming weeks and months. Sadly we're not quite in the position to offer digital editions for direct sale via the EON Store, but if you have an account with Zinio.com, who will be distributing digital editions, you won't need to worry about that anyway.
We actually put a lot of time into researching the best platform and we liked Zinio by far the best. The service works across a greater range of devices (PC, Mac, Android, iOS) and you can download the mags as many times as you like to however many devices you own. No doubt there are some of you asking why we don't just sell pdfs from the EON Store, which is a fair question, but we almost see Zinio as the Steam of the magazine world. It has ubiquity, ease of use, a nice switch between portrait and landscape modes (and a text-only mode that we'll be eventually supporting), relatively small file sizes for each magazine compared to hi-res pdf files, and the aforementioned support over a range of devices - which, we're informed, will soon include Kindle Fire. Oh, and there's a nice preview feature too.

So, to recap, EON has vacated the EVE Store and set up shop anew, while the process of going digital is well underway. In celebration we're offering 50%-off everything in the EON Store until midnight on Sunday 26th February.
Rest assured that just because sales and administration has moved to an out-of-town purpose-built facility, EON remains an official EVE product, with all the benefits that entail. EON has and always will remain fully-embedded within the CCP collective consciousness. Thank you for reading. If you have any questions or concerns, please either comment here, via Facebook or send an email to eon@mmmpublishing.com. We'll do our best to respond.