GM Week - Day Three Review!
Hey guys, Stardust here again!
Time for a review of day three of GM Week!
The Scavenger Hunt continues!
Day three saw increased Scavenger Hunt activity as more GMs went roaming around New Eden, focusing primarily on the faction rookie systems as well as the systems associated with the Sisters of EVE epic arc, with one enterprising GM making his way all the way to the Amarr system, much to the joy of the locals.
Those players lucky enough to find GMs in space were rewarded with the Combat Medic SKINs, as well as the highly anticipated Decommissioned ERIC Prototypes and some Dried Moss, because why not.
The Scavenger hunt continues today with the GMs venturing to landmark locations throughout New Eden, as well as travelling to a Unique Star. Check out the @CCP_Help channel for more totally subtle hints.
Poetry Competition:
On the Social Media front, our wonderful community got to release their inner poets and the results were spectacular. Dozens of submissions came in, and in the end we selected a winner that truly touched our tender heartstrings, although the runners up came close.
So, without further ado, the victor of the GM Week Poetry Competition: Commander Gauntlett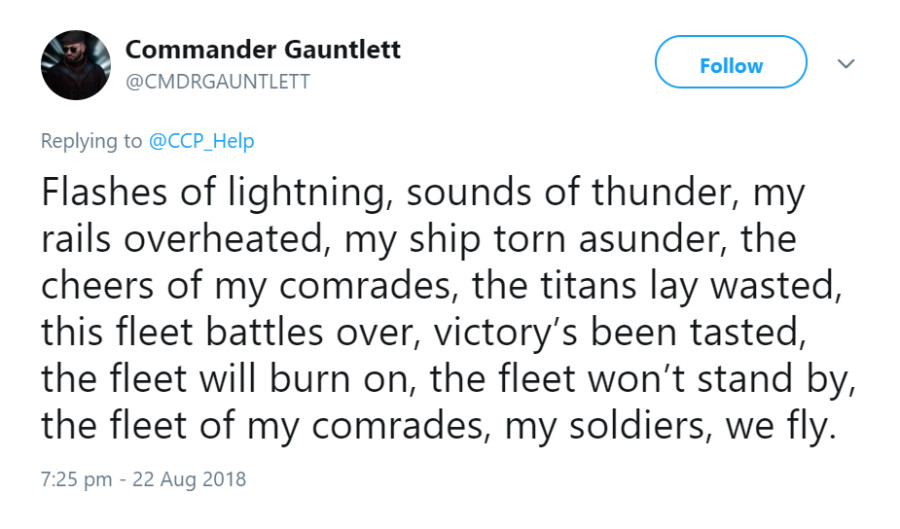 Runners up:
The winner and runners up will be contacted later today for their rewards.
Thank you so much for taking part and remember to keep an eye out for other competitions on the @CCP_Help twitter feed!
Ask me literally Anything!
Day three was rounded up with a "Reddit AMA" where all the important questions burning in the minds of the community were asked, such as the usage of beer in SodaStream and the necessity of wives.
In all seriousness though, we got a ton of good questions and were really glad to see such interest from the community. We encourage you to read through the AMA here.
As a side note, one of the questions we got was for screen shots from Polaris, and while we did provide a few images one of our favorite nebulas was neglected. You can see it in the screenshot above!
Coming up:
So far the week has been pretty great but we're nowhere near done!
The ever awesome BjornBee will be joining us again tonight at 17:20 EVE time, where he will lead a second fleet through the lawless wilds of New Eden, and this time we're going to be prepared as he actually insisted on assisting us with our ship fits (not like we needed help or anything…)
We will be launching a second competition on Twitter later today, and have more events planned as the weekend approaches, so stay tuned!