Fanfest 2014 Art Concept Session
Greetings,
I´m CCP Nag, Lead Artist for EVE and the EVE IP Art Director. I just realized as I sat down to write this little blog that I´ve been here 10 years and I´ve never written a single devblog. I guess there´s a first for everything.
I did a little sketching demo during Fanfest 2014 (the session recording is available on YouTube) and the fans who attended  asked me to post the image in a devblog.
A lot of my work consists of doing sketch work and mood paintings for trailers, covers, prototypes, special effects, gameplay, etc etc. During the panel I was trying to show how one might go about doing a little sketch work.  This is just something quick and simple given the time constraints of the session. I was trying to work within my comfort zone so it´s just a generic space scene of sorts.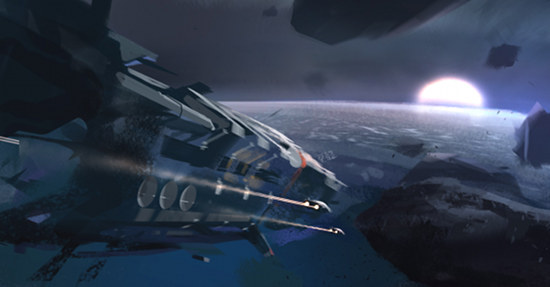 I´m going to keep it short this time around, I'm not a man of words, preferring to work with images. But I am currently working on a larger blog about the new sun flares because I had a large part in creating those.
Safe flying and hope to see you at next year's Fanfest!